Celtic Linen
An alternative fuel comparison project for commercial vehicles in the Health & Hospitality Sector.
Celtic Linen
Celtic Linen was established in 1926 by the Scallan family as a small domestic laundry. Since its establishment the family run company has grown to become one of the leading service providers in the healthcare and hospitality sectors processing approximately 1.5 million pieces of linen per week. Celtic Linen provides a nationwide service operating from 4 main depots supplying hotels and hospitals nationwide.
The challenge for Celtic Linen and CNG
Celtic Linen undertook a commercial vehicle comparison project for their nationwide linen company. As weekly suppliers of over 1.5 million pieces of linen to the hospitality and healthcare sector they were seeking fuel and emission efficiencies. The project involved the comparison of commercial vehicles including CNG, electric, and hybrid when compared to their diesel equivalents.x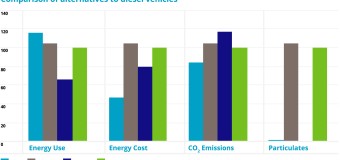 Bar charts showing difference in energy use, cost, CO2 emissions and particulates in different fuel types
Comparing CNG against diesel
The project involved running a CNG IVECO Eurocargo 12 tonne truck through urban, suburban, and rural routes in the Cork and Kerry region for over 18 months. The truck was run in conjunction with a diesel equivalent covering the same routes.
A viable alternative commercial transport fuel
The CNG truck proved its viability against other alternative fuels as the most advantageous option commercially and environmentally for the commercial vehicle market.
Why CNG?
High emissions and the rising cost of transport has shifted focus from the traditional transport fuels of diesel and petrol to alternative fuels. As the most environmentally friendly fossil fuel available, CNG offers a solution to Ireland's transport fuel needs.