Powering and supporting businesses across the gas network
Like many other businesses throughout Ireland, we are continuing to help and serve our customers and communities when they need us most. We'd like to share some of the activity that's been taking place across our network in recent weeks.
Celebrating 'Everyday Heroes'
We teamed up with Midlands103, KFM, KCLR and EastCoastFM and local restaurants, in these areas, to acknowledge those who are making a difference in the community – be it a frontline worker, a neighbour, a family member or someone from a local business.
We asked listeners to nominate their 'everyday hero' to be in with a chance of winning that hero a €100 voucher for a local restaurant (one of our business customers), as a thank you.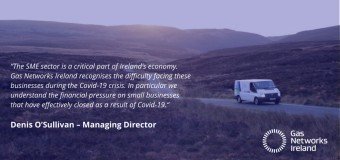 Supply Suspension Scheme
We have been working hard, together with the Government and CRU, to develop measures to support businesses and alleviate the financial pressure that has been caused by the crisis.
The 'Supply Suspension Scheme' is available to non-domestic Small and Medium Enterprises (SME). Through the scheme, businesses that are not consuming gas can apply to their supplier to have network charges suspended for a period of 90 days. Read more about the 'Supply Suspension Scheme'.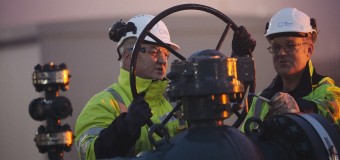 Essential works
We are privileged to be able to support the incredible work being carried out by businesses deemed essential by the Government during the current crisis.
We have provided essential network connections for the HSE across a number of hospitals, nursing homes and primary care centres.
We also continue to prioritise connections for frontline healthcare staff who are moving into new accommodation to be closer to healthcare facilities.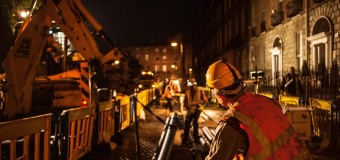 Our network
Whether you run your own small business or manage a high-powered industrial plant, you can continue to use gas as you always have.
Ireland's gas network is one of the most modern and safe gas networks in the world. We have robust and tested procedures in place to maintain security of gas supply to our customers and to ensure that staff and customer welfare is protected.
It is important to note that our emergency services continue to operate as normal.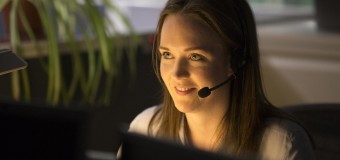 We're supporting Irish SMEs and we will continue to play our part - serving our 30,000 business customers, in every way we can, over the coming months.