Networks services centre
An innovative solution for a contemporary workplace.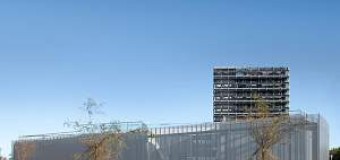 A powerhouse of a building
In 2008, Gas Networks Ireland spearheaded a vision for an innovative solution for a contemporary workplace that would centralise its key Dublin area operations. Gas Networks Ireland embarked on a two stage international architectural competition, facilitated by the RIAI. From an initial 56 entries for stage one, a shortlist of eight proposals was drawn up to develop the designs for stage two. Denis Byrne Architects was selected and appointed as the lead architectural consultant for the new Network Services Centre, with Walls as the main contractor.
The result is a 'powerhouse' of a building that has received the coveted rating of 'Excellent' under the bespoke building BREEAM assessment procedures; the first office building in Ireland to receive an 'Excellent' rating under the 2008 standard. BREEAM is the world's leading design and assessment method for sustainable buildings.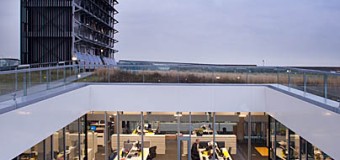 Sustainable design at its heart
The building's overall design had to reflect Gas Networks Ireland's commitment to environmental protection, energy conservation and sustainable development,. The building was also designed to illustrate outstanding architectural quality and a landmark development for the area.
The main focus of the new Networks Service Centre Building was to create a campus-style development that would facilitate and promote the inter-departmental, multi-disciplinary approach necessary for the provision of efficient and effective services. Prior to this, staff were based in four separate locations around Dublin. The requirement was one fully-integrated building accommodating all 300 staff.
The Networks Services Centre focuses the Dublin operations of Gas Networks Ireland in one single location on a circa 5 acre site at St. Margaret's Road, Dubber Cross, Finglas. The new building incorporates a number of primary functions including:
Design, construction, maintenance and operation of Ireland's natural gas distribution network
24/7 emergency response for Dublin and surrounding counties
The national Technical Training Centre
The Health, Safety, Quality & Environment Unit
The eighteen month construction phase, on what was previously a brownfield site, was completed on time and despite the difficult winter conditions of December 2010 and January 2011, with staff occupying the building in January 2012. The various sustainable components of the building can be viewed below.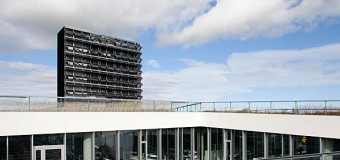 Award winning design
In 2013, the Networks Services Centre won a number of prestigious industry awards including:
RIAI Architecture awards for Best Commercial Building and Best Sustainable Project
The main award in the Building Category, at the Irish Concrete Society Awards and a special Sustainability Award in recognition of the sustainable use of concrete
Building of the Year at the Irish Building and Design Awards
NSC was also shortlisted for the 2013 Green Awards in the 'Green Building' category.
Sustainable components of the building