Having a say in Europe's Vision on Decarbonisation and Energy
Meet Gas Networks Ireland's European Affairs Team
Meet Gas Networks Ireland's European Affairs team.  Working within our Regulatory Affairs Department and headed up by European Affairs Manager, Gráinne Greehy, their day-to-day activity includes everything from representing Gas Networks Ireland at EU Associations; inputting to EU and National consultations which impact on policy development; ensuring compliance with EU legislation; articulating Gas Networks Ireland's strategic position at an EU level and strengthening our relationships with key European stakeholders.
The context for European Affairs
From legally binding emissions and renewables targets to gas market regulations and codes, Europe plays a key role in shaping Ireland's energy landscape.  The recently released 'European Green Deal', which sets out the European Commission's ambition for climate neutrality by 2050, will dictate the shape of energy policy for many years to come.  As we move to a low carbon society, power generation and the role that the gas networks plays have come increasingly under the spotlight.
From Gas Networks Ireland's perspective, developing a strong European Affairs presence is important and timely.  At a grassroots level, the team plays a crucial role in engagement with EU Institutions, the Irish Government, other Member States and the wider European policy community. This includes key EU Associations, representing the gas industry, including the European Network of Transmission System Operators for Gas (ENTSOG), Eurogas, Gas Infrastructure Europe (GIE) and Gas Distributors for Sustainability (GD4S), where at regular meetings, the team both protects and promotes the interests of Gas Networks Ireland and champions the strategic aims, set out in Vision 2050, at an EU level.
An experienced team
The European Affairs team has representatives in Cork and Brussels. In Cork, Gráinne, Stephen O'Riordan, Kieran O'Sullivan and Mary O'Mahony, combine a blend of expertise from the areas of Regulation, Asset Management and Communications to lead areas of particular relevance in the EU context, including stakeholder engagement, innovation, policy and consultation. In Brussels, Seán Kinsella and Carmel Carey, are seconded to ENTSOG, and work in the areas of Market Development and Communications. In addition to their day-to day work, both participate in the association's Working Groups, where they connect with the Cork team on a regular basis.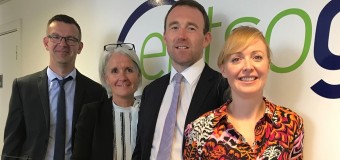 Delivering for the business
Activity in Europe at present is primarily concerned with reflecting the key themes of the Green Deal, launched in December 2019, and the likely changes to gas legislation, expected to be delivered in 2021.  At this crucial stage in policy development, the role of the EU Affairs team, working closely with key internal stakeholders across Gas Networks Ireland, cannot be underestimated.  Regulatory Framework Manager Con O'Donnell, in whose business area the team sits, says "It's vital that Gas Networks Ireland is well informed of the prospective changes to EU policy impacting the gas market. The team in Cork and Brussels are key to proactively influencing EU legislation which aligns with and supports Gas Networks Ireland's strategy".
To convey Gas Networks Ireland's strategy and vision for the gas network to become net zero carbon by 2050, briefings take place on a regular basis with key political influencers including Irish MEPs, local Government officials as well as with European Industry, Legislative and Regulatory stakeholders.  

The team's remit extends beyond advocating for Gas Networks Ireland's interests in Europe to the equally important role of bringing awareness to key stakeholders across the business, in relation to how proposed European policy will impact the company and ultimately how we do our jobs into the future.
Collaborating for success
To ensure clarity and consistency of approach, the team coordinates monthly EU Stakeholder Meetings, engaging with colleagues from Regulation, Asset Management, Commercial, Legal and Technical Competency.  Close collaboration is also maintained with Corporate Affairs and Internal Communications.  Direct participation from the business in EU association Working Groups is also overseen by the team, ensuring that Gas Networks Ireland's professional reputation is maintained whilst working effectively with European industry colleagues. Stephen O'Riordan, European Affairs Manager (Acting) is quick to acknowledge the input of the team's many stakeholders "Ensuring that experts from across the business are actively participating in and voicing the views of Gas Networks Ireland, at the various EU Associations, is really important and key to our success".
2020 – Full steam ahead
In January, Gas Networks Ireland's Managing Director, Denis O'Sullivan met with Ditte Juul Jørgensen, Director General for Energy (DG ENER) at the European Commission.  Arranged via Gas Networks Ireland's association with GD4S and supported by the European Affairs team, the meeting presented a key networking opportunity between GD4S member company CEOs, while also facilitating important discussions with the new Director-General of DG ENER on the role the gas network can play into the future.
2020 looks set to continue in this vein with a full calendar of monthly meetings and EU events already in place.