Anne Moore appointed Sustainability Manager at Gas Networks Ireland
Paddy Lambe, Awards Judge, presenting The Sustainable Energy Achievement Award to Anne Moore, Gas Networks Ireland.
With a background spanning 22 years in Environment and Health and Safety roles, Anne Moore was recently appointed as Gas Networks Ireland's Sustainability Manager.
An honours BSc Chemistry graduate with Post Graduate Diplomas in Environmental Protection, Occupational Health and Safety and Occupational Hygiene, Anne is also the Honorary President of the Occupational Hygiene Society of Ireland.
A core part of the gas utility team since 2008, Anne lives with her husband Patrick and their two children in Donnycarney, Dublin.
We talk to Anne about Gas Networks Ireland's role in building a sustainable future for energy in Ireland.
Q 1. Why has Gas Networks Ireland appointed a Sustainability Manager?
We operate and maintain the gas network in Ireland – essentially the gas pipes under the ground and associated infrastructure above ground. As guardians of this €2.6bn asset, owned by the people of Ireland, we aim to deliver our services in a sustainable manner.
My role is to ensure that sustainability is at the core of our business, that it is key to our strategy, and that we contribute to the protection of the environment while supporting the social and economic development of the communities we operate in, as well as the wider economy. My team are in the process of developing a robust sustainability framework to help ensure we respond effectively to the challenges we face.
Q 2. What steps has Gas Networks Ireland already taken to become more sustainable?
Our sustainability strategy, "Sustainability in Action", which is aligned with the United Nation's Sustainable Development Goals, has three pillars – environmental impact, social impact and economic impact.
We are members of Business in the Community Ireland's Leaders Group on Sustainability, co-chair of their Low Carbon Economy Group, committed to the 'Low Carbon Pledge' to reduce greenhouse gas emissions by 50% by 2030, and continue to be certified to the international Environmental Management System standard ISO14001 and the Energy Management System ISO50001.
We are also an active participant in the Government's Public Sector Monitoring and Reporting (PSMR) initiative. While the PSMR aims to achieve 33% energy saving for the public sector by 2020, Gas Networks Ireland is currently on track to exceed this ambition.
We are proud to partner with Junior Achievement Ireland to bring our award-winning Science, Technology, Engineering and Maths (STEM) education programme, Energize, to primary schools throughout Ireland and committed to protecting biodiversity and signed up as a business supporter of the All-Ireland Pollinator Plan.  We are creating a network of pollinator-friendly habitats nationwide, conducting ecology surveys, planting wild flower meadows, including red clover, erecting bird boxes throughout the areas in which we operate, and producing honey from our very own beehives.
Our efforts were recently recognised when we won the Sustainable Energy Achievement Award at the 2020 Green Awards for our work in reducing our own energy consumption. We also won the Green Large Organisation of the Year Award at the 2020 Green Awards for demonstrating bottom-up best environmental practices in all aspects of running a large business.  Winning these awards is an important validation for Gas Networks Ireland and a reflection of how we continually improve as a business, how we serve our customers, and is a testament to our employees.
Winner of sustainability awards
The Sustainable Energy Achievement Award 2020
The Green Large Organisation of the Year Award 2020
The Special Merit In Business Award for its Corporate Responsibility Programme
The 'Working Together for Biodiversity' Award
Q 3. How can the gas network help to reduce Ireland's emissions?
Our Vision 2050 document, which we published last year, outlines our vision  for a fully decarbonised gas network in Ireland. To achieve this, we are supporting the development of a number of technologies, including renewable gases such as biomethane and hydrogen, and carbon capture and storage. Collectively, these can help reduce Ireland's emissions by one third.
The EU believes that Ireland has the largest potential per capita to produce renewable gas. We estimate that Ireland could replace 20% of natural gas with renewable gas within a decade with the right frameworks in place. However, we also recognise that the renewable gas industry needs to take a series of steps to achieve this level of ambition, based on proven sustainable delivery.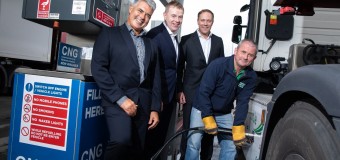 Gas Networks Ireland's Head of Commercial and Corporate Affairs Ian O'Flynn and Managing Director Denis O'Sullivan with Gordon Lawlor, MD of Circle K, and Aidan Doody of Harris Transport at the launch of Ireland's first public CNG refuelling station at Circle K in Dublin Port last year.
Q 4. What is renewable gas and is it available in Ireland today?
Yes. It's available and produced here. We are already seeing the first companies sign up with energy suppliers to use renewable gas as part of their sustainability and low carbon commitments. We hope that it will soon also be available to our domestic customers, particularly as home owners won't need to change or upgrade existing gas boilers.
Renewable gas, is a clean, sustainable and certified carbon neutral that is nearly identical to natural gas and used in the same way. It can immediately replace fossil fuels in electricity, industry, heating, transport and power generation.
It is made through a process called Anaerobic Digestion (AD), where food waste, animal waste, grass and other crops are combined in a tank with bacteria introduced to break down the ingredients and produce the renewable gas. The gas then either directly enters the gas networks if the AD plant is close to the network or is transported by road to a dedicated, purpose-built injection point, such as that in Cush, Co. Kildare, where it is fed into the gas network.
It works in the same way as natural gas, coming into homes and businesses through the existing gas infrastructure. So essentially out-of-date pizzas from supermarkets might heat your home in the near future!  You can see why we are eagerly planning a second, larger gas injection point in Mitchelstown, Co. Cork. Our goal is to develop a network of renewable gas injection points across the country.  
I would encourage anyone who wants to know more or get involved to visit our website for more information and to register their interest.
Q 5. Why is renewable gas good for Ireland?
Many reasons. In terms of the environment, renewable gas is a sustainable product that helps improve soil, water and air quality, by reducing the need for chemicals on farms. It is carbon neutral too, so it helps us reduce our emissions from energy and agriculture.  
When it comes to the economy, renewable gas is produced in Ireland, so it creates jobs and gives a new economic opportunity to towns and villages around rural Ireland. And, because it's Irish, it is a secure source of energy, not dependent on imports from overseas.
Food companies are already using AD to sustainably dispose of their waste but what's really exciting is that we have been contacted by a number of companies who not only want to turn their food waste into renewable gas but also use that gas to power their businesses creating a true circular economy.
There are also great benefits for farmers. Using animal manure to create energy means that on-farm emissions can be reduced. This is particularly important in Ireland, where agriculture is a major part of our emissions challenge. Furthermore, a by-product of the AD process is a nutrient-rich digestate that can replace chemical fertilisers, which is another sustainable benefit for the farmers involved and for soil quality.
Q 6.  What about the transport sector?
While Heavy Good Vehicles (HGV) and buses account for only 4% of vehicles on Ireland's roads, they account for 30% of all emissions in the road transport sector. Compressed Natural Gas (CNG) is a proven alternative to diesel or petrol. It can cut transport costs by up to 25% and reduces carbon emissions. Better still, these vehicles can achieve zero-carbon transport when operating on renewable CNG.
Q7. Finally, how important is it for Gas Networks Ireland to play a lead role in the nation's future sustainability?
We are ever-conscious of our impact on the environment and on the communities in which we operate. We are proud to be one of only 34 companies in Ireland to hold the Business Working Responsibly mark for responsible and sustainable business practices, and we are committed to ensuring that sustainability is at the forefront of everything we are trying to achieve in helping Ireland reduce its carbon emissions.
"Sustainability in Action", can be found at: gasnetworks.ie/sustainabilityreport