Bord Gáis Networks leverages SEAI support in drive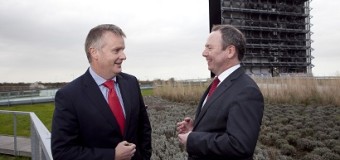 Bord Gáis Networks leverages SEAI support in drive to meet 2020 targets.
Published 2014
Marking the start of Responsible Business Week 2014 (10-14 November), Sean Casey, Managing Director, Bord Gáis Networks and Brian Motherway, Chief Executive, Sustainable Energy Authority of Ireland (SEAI) are pictured during a visit to the gas network operator's Networks Services Centre (NSC) in Finglas, Dublin, the only office building in Ireland to hold the coveted rating of Excellent under the international BREEAM design and sustainability assessment*.
Bord Gáis Networks engaged with SEAI for support through its Public Sector Energy Partnership in establishing an integrated energy management system to enable delivery of the challenging public sector targets under the National Energy Efficiency Action Plan (NEEAP). Bord Gáis Networks is committed to delivering 33% energy efficiency savings by 2020 across its operations, facilities and fleet and recently received ISO 50001 certification for the energy management system, only the second semi-state company to do so. This compliments other international and voluntary standard certification awarded to Bord Gáis Networks such as ISO 9001, ISO 14001 and the Business Working Responsibly mark.
Bord Gáis Networks is currently working on a detailed energy strategy in conjunction with SEAI to maximise energy savings up to 2020 and beyond.
* BREEAM is the world's leading design and assessment method for sustainable buildings. The rating 'Excellent' was awarded to NSC under the 2008 standard