Natural Gas Powers Center Parcs Resort in County Longford
Gas Networks Ireland is pleased to announce the successful flow of natural gas to the new Center Parcs forest resort in County Longford.  The gas network is now successfully commissioned and natural gas is a critical fuel source at the Center Parcs Longford Forest site which offers over 100 family activities and 466 high quality lodges in a unique woodland setting.  Center Parcs Ireland now joins over 700,000 homes and businesses in Ireland using natural gas. 
Natural gas will be used on site for heat, power and cooking, with resort facilities powered by a series of Combined Heat and Power (CHP) engines, which deliver a low carbon energy solution.  The cleanest, most environmentally-friendly fossil fuel, natural gas produces 24% less emissions than oil and 40% less than coal.  CHP uses excess heat from power generation to heat buildings and other facilities.  This is an ultra-efficient energy solution, with the potential to significantly reduce Center Parcs' carbon footprint.  These CHP units may also be fuelled in the future by renewable gas, without any modification required to the existing equipment. 
Center Parcs' commitment to the project was key, explains Ian O'Flynn, Head of Commercial & Corporate Affairs, Gas Networks Ireland:
"The availability of natural gas to provide safe, efficient and cost effective heat and energy is a priority for Center Parcs Ireland.  We are delighted to have extended the natural gas network to the area and this investment in critical energy infrastructure was only made possible by the vision and commitment of Center Parcs. 
We are proud to have delivered this Gas Networks Ireland project safely and on time and we are enormously grateful to the local communities in Counties Longford and Westmeath for their patience during our construction works.  We have also opened up the future potential for customers along the route to access renewable gas which will become an increasingly important part of Ireland's energy supply."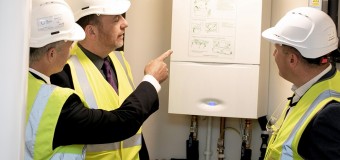 Martin Dalby, CEO, Center Parcs explains the rationale for their involvement:

"A supply of natural gas was absolutely key to our development in County Longford and we are very grateful for the support of Gas Networks Ireland in helping us reach this milestone. We also appreciate the support and patience of the local community during the works and I am sure that everyone will see the benefits of the investment we have made in this critical piece of infrastructure which has the potential to have a transformational impact on the local and regional economy".
Comprising 27km of pipeline in total, the 'Natural Gas to Center Parcs' project was delivered in two sections.¹  Section one, measuring 6kms in length, runs from Rathmore, Co Longford along the N55 into Ballymahon and then along the R392 to the Center Parcs site.  Section two, measuring 21kms in length, runs via regional and local roads from Ories to Tang, in County Westmeath and then along the N55 connecting to section 1 in Rathmore.  Preliminary work began on the large-scale construction of a natural gas pipeline in 2017 and construction was completed in December 2018. 
Ends/

Notes: 
Section 1:  Rathmore, Co Longford to Center Parcs, Co Longford (6kms) - 180mm pipeline; 
Section 2:  Ories, Co Westmeath to Rathmore, Co Longford (21kms) - 400mm pipeline.
For further details, please contact:
Mary O'Mahony, PR Manager, Gas Networks Ireland                                         
t: 021 453 4545 / e: mary.omahony@gasnetworks.ie
Issued by Murray on behalf of Gas Networks Ireland.
Jackie Phelan, Murray                                                                                           
T:  01 4980324
E: jphelan@murraygroup.ie
About Gas Networks Ireland: Gas Networks Ireland is the business division of Ervia that owns, builds and maintains the natural gas network in Ireland and connects all customers to the gas network. Gas Networks Ireland operates one of the most modern and safe gas networks in the world and ensures that almost 700,000 homes and businesses receive a safe, efficient and secure supply of natural gas, 24 hours a day, 365 days a year. Ervia is a commercial semi-state multi-utility company with responsibility for the delivery of gas and water infrastructure and services in Ireland.