Check your Carbon Monoxide alarm monthly or you might be brown bread
Give that carbon monoxide alarm a monthly test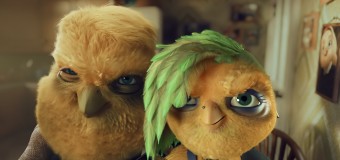 "Give that carbon monoxide alarm a monthly test." That's the latest message from Tommy McAnairey, the well-known fictional canary balladeer who launched his latest carbon monoxide campaign today on behalf of Gas Networks Ireland.
Tommy has been raising awareness about the dangers of carbon monoxide poisoning for years and his promotion of the importance of installing carbon monoxide alarms in the home has seen ownership climb from 25% in 2014 to 69% in 2020, and awareness of the dangers of carbon monoxide as high as 96%.
Like everyone today though, Tommy is spending a lot more time at home these days with his family, and in his latest carbon monoxide safety campaign, the singer in crooning about all the "poxy chores" he has to do in the house.
But there's one chore he's happy to do every month to avoid being "brown bread" as he puts it, and that's to test his Carbon Monoxide alarm.
Together with his daughter Drimnagh, who was introduced to the public for the first time today as part of the new 2021 campaign, Tommy's latest tune focuses on the importance of checking your alarm monthly to ensure you are your family are protected.
Gas Networks Ireland's Networks Safety Manager, Owen Wilson, said:
"Carbon monoxide is an odourless, colourless gas that can be produced when any fuel is burned, including coal, turf, oil, gas and wood. At low levels it can cause sickness and at high levels it can kill in as little as three minutes.
"Carbon monoxide poisoning is preventable and that's why we've been using our loveable singing canary, Tommy McAnairey, and his catchy songs to make people aware that while having a carbon monoxide alarm in your house will significantly reduce the risk of carbon monoxide poisoning, it needs to be working correctly for it to be effective.
"With Tommy's help, we want to draw attention to the seriousness of carbon monoxide poisoning and are urging people who already have an alarm to check their device on a monthly basis to ensure it's still working in order to keep you and your family safe. Alarms should meet the right European standard, need to be installed in the right place and need to be within their expiry date in order to provide effective protection."
Led by Gas Networks Ireland, the campaign is funded by the Commission for Regulation of Utilities and supported by the National Standards Authority of Ireland, Register of Gas Installers of Ireland and Liquid Gas Ireland. It was produced by Dublin based creative consultancy Publicis and animated by Dublin studio Piranha Bar.
To find out more about the causes, signs and symptoms of carbon monoxide poisoning and how to protect yourself and others, visit https://www.carbonmonoxide.ie/ or call the Carbon Monoxide Awareness Line on 1800 89 89 89.
Gas Networks Ireland also promotes public safety through the gas escapes emergency service, Dial Before You Dig, meter tampering and using a registered gas installer campaigns.