Going the extra mile for those cocooning in our communities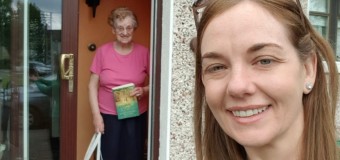 Supporting our cocooning older family members, friends and neighbours has been a priority for many of us in recent weeks. We've all been busy checking in on the older people in our lives, delivering groceries and other essentials.
At Gas Networks Ireland, some colleagues have been going the extra mile for an older friend. Kira and Jennifer, from our Finglas office, met 81-year-old Susan while doing some volunteer gardening with charity partner, Age Action, last year.
Susan, lives on her own and her children and grandchildren live far away from her. When lockdown commenced, they grew concerned about Susan and, while Kira also lives a distance away, Jennifer fortunately lives nearby and was able to help out.
"Kira and I quickly became great friends with Susan last year. I only live 2km away from Susan so I gave her a shout offering to help in any way I could. Susan was thrilled with the offer. While maintaining physical distance, I visit her every week to drop in her shopping. I also collect her pension for her and help with paying her bills," Jennifer said.
Kira said cocooning has been difficult for Susan, who is a very active and independent lady. Together with colleague James, Kira and Jennifer ensured Susan could maintain her love of reading.
"Susan would normally have a very busy social life, attending social clubs and dance classes weekly along with seeing her wide selection of friends. She's also an avid reader and usually makes regular trips to the library, so being without new books to read was a huge drawback for her," Kira said.
"We've got lots of books in our library in the office which weren't being used as it's closed, so thanks to our Facilities and Operations team we were able to get books dropped out to Susan. James helped us out hugely on this, collecting the books and, keeping in line with social distance and travel guidelines, dropping them up to Susan.
"James has also been helping Susan with the upkeep of her garden regularly since last year, from welding a shore down to size to chopping and cutting back the overgrown garden. James has done great work to help Susan, even offering to lend a hand to others who might require help in their garden.
Jennifer said all three have developed a friend for life in Susan.
"Thank you to Susan, for the special friendship. Susan is a lovely lady and is very deserving of a little extra help during these difficult times," Jennifer said
And Susan said the feeling is mutual.
"Out of all of that's going on at the moment, I am very lucky to have found three wonderful friends in Kira, James and Jennifer to look out for me," Susan said.