Gas Networks Ireland recognised for outstanding community support during Covid-19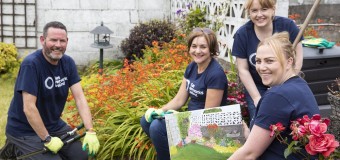 Gas Network Ireland was announced as the winner of the Outstanding Community Support Award for exceptional customer service and support to communities at Friday's 2021 CCA Excellence Awards.
Hosted this year by Scottish comedian and broadcaster Fred MacAulay, the CCA Excellence Awards are regarded among industry as the ultimate recognition for customer service excellence in Ireland and the UK.
The Outstanding Community Support Award was one of five new categories introduced to this year's online event to recognise effort and response to Covid-19. 
Gas Network Ireland exceeded its corporate social responsibility goals throughout 2020 and finished ahead of competition from Capital One, Merchants SA and Scottish Widows to win the award.
Gas Networks Ireland's Corporate Social Responsibility Manager, Christina van der Kamp, said:
"We are thrilled to have won the Outstanding Community Support Award in the 2021 CCA Excellence Awards. As a company, it is great to be recognised for the passion our staff have displayed throughout these challenging times. We look forward to continuing with our volunteering and donations this year and supporting communities and charities around Ireland.
"Volunteering is a key part of our social engagement. Our staff contribute to a range of causes in their communities. Many reported that staying engaged in volunteering, even online, helped them to cope with the pressures of lockdown."
Gas Networks Ireland and its staff contributed over €250,000 to more than 30 charities in 2020. This was up 15% on 2019, as the gas network operator worked closely with a number of groups supporting the most vulnerable in the communities where it operates during the pandemic.
The Business Working Responsibly Mark holder focussed on education, poverty, homelessness and mental health organisations and charities, with employees accumulating a total of over 580 volunteering hours, despite the challenges of social distancing.
Among its most significant partnerships in 2020 was Gas Networks Ireland's programme with Age Action. As well as funding support, the utility's staff participated in an online tech-tutoring programme for older people, teaching simple technology skills such as making video calls to family members, a hugely important part of staying connected with one another throughout the pandemic.
Another key area of support was education, particularly in Science, Technology, Engineering and Maths (STEM) subjects. Gas Networks Ireland has partnered with Junior Achievement Ireland to run the STEM education programme, Energize, programme for the last decade. Energize was delivered to 5,000 sixth class students in 19 counties last year and was also made accessible online.
Other organisations and charities to benefit from Gas Networks Ireland's support last year included the BT Young Scientist, Co-operation Ireland, Engineers Week, Time to Read Cork and Dublin, Skills at work Beneavin College Finglas and Nagle College Cork.
Gas Networks Ireland's parent company Ervia was nominated for the Innovation in Customer Services award, while former Gas Networks Ireland employee, Margaret Ganley, who now works for Irish Water, also part of the Ervia group, was acknowledged with a Lifetime Achievement Award.
CCA Chief Executive, Anne Marie Forsyth, said: 
"Many congratulations to all the winners who truly represent the best in customer service. Businesses in the CCA network have been working tirelessly through incredibly challenging times to ensure they continue to provide the best service possible for customers.
"Many lessons have been learned and it is a real privilege to share and celebrate the approaches taken to safeguard excellent practices, supporting customers and employees through a significant period of uncertainty."