Gas Networks Ireland sponsors Cork Tri Club's "The Lost Sheep" in Kenmare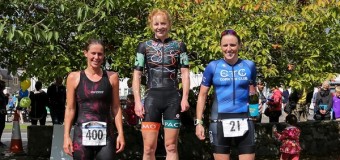 The annual "Lost Sheep" triathlon took place in Kenmare on Saturday 31st August. Now in its 17th year, the triathlon has gained a reputation both nationally and internationally as one of the toughest middle distance races on the Irish triathlon circuit.
The event which is organised and run by the Cork Triathlon Club, sold out in less than a minute this year. Competitors received a Gas Networks Ireland travel mug as part of their participants' bag.
The 400 participants started with a 1900m swim in scenic Kenmare Bay. This was followed by an 83km cycle which took competitors from Kenmare out along the Ring of Beara peninsula. Finally, the 21km run course took the athletes along roads by the river Sheen before turning back and finishing in Kenmare town.
This year, the men's race was won by Cork man Chris Mintern from Cork Triathlon club with fellow club member Owen Cummins in second place and Allan Kenny from 3D Triathlon Club in third.
The first woman home was Heather Foley of Sligo Triathlon Club followed by Cork Triathlon Club's Katie Cooke and Ellen Vitting from Tri an Mhí club finishing off the podium in third place.
Ian O'Flynn, Head of Commercial and Corporate Affairs at Gas Networks Ireland said, "Promoting health and wellbeing is very important to us at Gas Networks Ireland. The "Lost Sheep" triathlon is a fantastic event in a beautiful part of the world." 
"Thanks to everyone at the Cork Triathlon Club for organising the event and congratulations to all who took part."
ENDS
Media queries
Marie Sheehan
PR Manager, Gas Networks Ireland
087 754 8968
marie.sheehan@gasnetworks.ie
About Gas Networks Ireland
Gas Networks Ireland is the business division of Ervia that owns, builds and maintains the natural gas network in Ireland and connects all customers to the gas network. Gas Networks Ireland operates one of the most modern and safe gas networks in the world and ensures that over 700,000 homes and businesses receive a safe, efficient and secure supply of natural gas, 24 hours a day, 365 days a year. Ervia is a commercial semi-state multi-utility company with responsibility for the delivery of gas and water infrastructure and services in Ireland.
About The Lost Sheep
Visit: http://www.corktri.com/events/the-lost-sheep-triathlon-kenmare/