Gas Networks Ireland Customer Service Team recognised as a 'Centre of Excellence'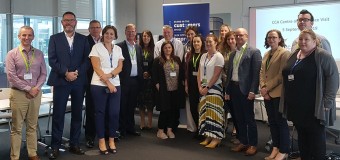 CCA Global, the professional body for leading brands in customer experience, recently recognised Gas Networks Ireland as a 'Centre of Excellence'.
CCA Global along with other industry leaders from across Ireland and the UK visited Gas Networks Ireland's award winning customer service operations team at their premises in Finglas to learn, share and benchmark.
Anne Marie Forsyth, Chief Executive, CCA Global said, "It was wonderful to have like-minded people together to stimulate thinking and discussion around the future of customer experience measurement. Thanks to Gas Networks Ireland for sharing how they put the customer central to everything they do and how this has made a real difference both to the business and the customer experience."
Gas Networks Ireland's customer service team is no stranger to accolades having received 18 nominations and winning six CCA Global awards since 2009,  the most recent being the "Outstanding Commitment to Customer Service Excellence" award in 2017.
"I am very proud that we have been recognised as a Centre of Excellence," said Bernard Mooney Customer Care Manager, Gas Networks lreland.
"With ongoing support from GNI leaders our teams constantly strive to offer an excellent customer experience. Alongside a customer satisfaction score of 92% and NPS of +65, this further endorsement from CCA Global is testament to our customer commitment."
Delegates were also brought on a tour of Gas Networks Ireland's training facility, where the layout mimics a typical street. Kitted out with air pressure valves to replicate gas leaks and provide a realistic learning environment. Key to the success of the team's training is that customer service is assessed as rigorously as technical aptitude.
Marie Lyster/Bernard Mooney: "Being customer centric is at the heart of what we do. We work hard to ensure that our customer experience principles of standing in the customers shoes, looking for ways to constantly improve, being solutions focussed and taking ownership are embedded throughout every part of the organisation."
ENDS
Notes to editor
Photo - Photographed with Marie Lyster and Bernard Mooney from Gas Networks Ireland, are Edel Murphy and Gary Sayers Abtran Limited, Jennifer O'Brien and Magda Pieczyrak Bank of Ireland UK, Sophie Connors CGA Global, Diane Hanson, Concentrix Europe Limited, Carmel Geaney and Helena Walsh ESB Networks, Laura Dennehy and Rose Dunlea FEXCO, Sean Canning FirstSource Solutions UK Limited, Derek Andrews and Keith Chalmers Invest Northern Ireland, Reyna Nixon Irish Water, Maureen Delaney Power NI and Ian Moore Twilio.
About Gas Networks Ireland
Gas Networks Ireland is the business division of Ervia that owns, builds and maintains the natural gas network in Ireland and connects all customers to the gas network. Gas Networks Ireland operates one of the most modern and safe gas networks in the world and ensures that over 700,000 homes and businesses receive a safe, efficient and secure supply of natural gas, 24 hours a day, 365 days a year. Ervia is a commercial semi-state multi-utility company with responsibility for the delivery of gas and water infrastructure and services in Ireland.
About CCA Global
CCA is the professional body for leading brands in customer experience, challenging and connecting public and private sector organisations to become world class.
www.cca-global.com