Delivering gas and water services to Wexford
Energy savings of up to 60% will help power local economy and water mains replacement and site investigations included in project.
Issued: September 1st 2016
A €25m plan to bring gas to Wexford town and in parallel, deliver enhanced water services, is scheduled to begin with works starting from September 12th. The Wexford Town Gas and Water Project will be delivered jointly by Gas Networks Ireland and Irish Water on behalf of Ervia, an approach which allows for gas and water infrastructure works to be completed together, thereby reducing costs and minimising disruption to local businesses and residents. Phase 1 works will run from September until early 2017, with Phase 2 expected to commence mid-2017.
Delivering a natural gas connection will provide a major boost to the town's economy, and improving the water infrastructure will improve the reliability of the drinking water supply and reduce water leakage in the town by over 600,000 litres every day - the equivalent of the amount of water needed to supply a town the size of Bunclody every day.
Phase 1 (From September 12th, 2016)
Phase 1 of the project sees approximately 14km of gas pipelines constructed within the town (see map below). In collaboration with Irish Water, 1km of water mains will be replaced on the Newtown Road during this phase and site investigation works and surveys will be carried out throughout the town in order to assist in the design of water network upgrade works that are due to commence construction in Wexford town in 2017. This phase is the next stage of the Gas to Wexford project, which to date has seen a 40km Feeder Main gas pipeline constructed from Campile, Great Island to Wexford town and connections supplied to a number of contracted large customers.
Phase 2 (From mid-2017)
Scheduled to commence mid-2017, Phase 2 sees the building out a further 13km of gas pipelines around the town, together with the replacement of 11.7km of old water mains in poor condition with high levels of leakage, the majority of which coincide with the gas route. 2017 water main replacement works will also include the decommissioning of approximately 1,000 lead backyard shared water service connections.
The delivery of gas and water infrastructure upgrades in one project is the result of a multi-utility approach taken by Ervia, which allows for the delivery of a more efficient project overall. Crews will work in small sections at a time, with each section taking just a few days to complete. This will limit the disruption for those who use the affected routes. All works will be temporarily filled or suitably covered each evening. Once work is completed on each section, the excavations will be backfilled and surfaces fully restored.
"We continue to engage with local authority personnel, politicians and other stakeholders as we have done right throughout the Wexford project to date. We are very mindful that works are an inconvenience and cause disruption to both businesses and residents along the town route. However our aim is to ensure that all those on the route are informed of when we are working in their area and that our traffic management plans are in place and working effectively. The safety of the public remains our number one priority and every effort will also be made to minimise disruption."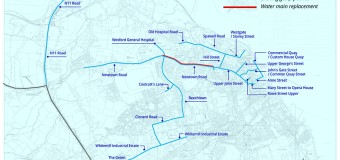 Availability of Natural Gas is a key consideration which many large international companies look to when choosing a location in Ireland. As Wexford competes with other towns around the country for investment and jobs, this infrastructure will further enhance its attractiveness as an investment location and significantly strengthen the hand of local development agencies such as the IDA and Wexford County and Municipal Councils. The lower cost and flexibility of Natural Gas will also help existing local enterprises to grow their businesses, while also reducing their carbon footprint.
"We are delighted to be progressing to the next stage of this strategic investment in Wexford. The level of response to date from local businesses and stakeholders tells us that there will be a very strong demand for natural gas in and around Wexford town. Businesses making the switch can look forward to fuel cost savings of anywhere between 30% and 60% on their current fuel bills, together with reduced carbon emissions, no storage requirement and a constant, reliable supply of natural gas."
To connect to the natural gas network or for further information on the construction project contact 1800 464 464 or email networksinfo@gasnetworks.ie or log on to www.gasnetworks.ie/newtowns Business customers may call our dedicated Businesslink service on 1800 411 511.
For further information, contact:
Mary O'Mahony, PR Manager, Gas Networks Ireland
021-453 4545 / 086 834 2277 or mary.omahony@gasnetworks.ie