Campaign launched to remind public what to do if they smell gas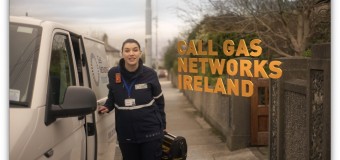 "If you smell gas at home or on the street, don't ignore it… No matter who your gas supplier is, call Gas Networks Ireland on 1800 20 50 50." 
That's the message from Gas Networks Ireland's latest public safety awareness campaign that hit our screens this month.
Ireland's €2.7bn, 14,521km gas network is considered one of the safest and most modern systems in the world, with more than 710,000 Irish homes and businesses relying on the national gas network to provide safe, reliable, flexible and affordable energy to meet their heating, cooking, transport and power needs.
Speaking on the importance of the new campaign, Gas Networks Ireland's Networks Safety Manager, Owen Wilson, said:
"As guardians of Ireland's gas infrastructure, safety is at the heart of everything we do. We want our customers and the public alike to know that in the unlikely event they ever smell gas or suspect a gas leak, even if they are not sure, to take immediate action for their safety.
"The aim of our awareness campaign is to urge people not to ignore any suspected gas leak. If they do smell gas at home, they need to open windows and doors, don't smoke, vape or use a naked flame, don't unplug or switch anything electrical on or off, and turn off the gas at the meter. They should then call our emergency team on 1800 20 50 50."
The new campaign is the first to feature a female gas safety engineer reflecting Gas Network Ireland's ambition to support and diverse and inclusive culture by promoting equal representation in all roles.
The multi-media ad was produced in Ireland by Dublin based creative consultancy, Publicis, and directed by the Emmy Award winning Emer Reynolds for Antidote Films.