Responding to gas escapes and carbon monoxide issues within the hour, every hour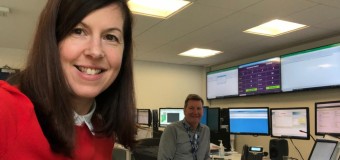 Gas Networks Ireland's Emergency Dispatch Team creates, monitors and dispatches response work for the distribution network that brings gas to our homes and communities. 
This includes the crucial work of responding to gas escapes and carbon monoxide issues, as well as reports of 'no gas' outside of regular working hours.
The team works 24/7 to make sure that, even in these challenging times, we respond within the hour, every hour to keep things safe.
Emergency Dispatch Team member, Joanne Hassett, said that while Covid-19 has forced some changes the team are as focused as ever on ensuring the public's safety.
"Rest assured, we're still working away on our number one priority, which is the safety of our customers, communities and colleagues," Joanne said.
"A new Radio Room facility was established in Brownsbarn, Citywest, Co Dublin, to replicate the Networks Services Centre in Finglas, where we normally work from.
"This facility allowed us to split our day and night shifts between both locations so we can work safely on our shift and help prevent the spread of the virus."
Joanne said current restrictions allow only two people in the Radio Room at any time, which has led to a significant reduction in social interaction between colleagues.
"The only person I see on my shift, is my colleague, Keith," Joanne said.
"But we continue to keep connected as a broader team which is really important. Technology has really helped in that regard."
If you smell gas, please call our 24-hour Emergency Service immediately on 1800 20 50 50.
For carbon monoxide, please call 1800 898 989.