Gas Networks Ireland employees help the elderly in Finglas area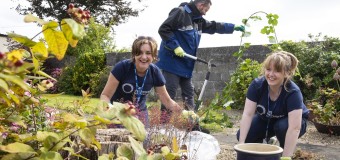 Over 40 Gas Networks Ireland employees volunteered their time and spent a day working in the gardens of older people in the Finglas area. The gardening day was part of Age Action Ireland's Care and Repair programme.
John O'Mahony, Age Action's Care and Repair National Development Manager: "As we grow older, we begin to lose mobility and basic household tasks can become very difficult to manage. The garden is often the first thing that they can no longer do by themselves – which can be very upsetting for people who have kept beautiful gardens throughout their lives. Safety issues also arise as trip hazards emerge as moss on pathways becomes slippery."
"We rely on volunteers to deliver the Care and Repair Programme and the community partnership with Gas Networks Ireland means that together we have given 25 older people a tidier, safer garden area for them to enjoy."
Age Action Ireland's Care and Repair programme is delivered by volunteers who carry out DIY work in the homes of older people. In 2018 volunteers carried out 9,456 Care and Repair jobs in the homes of older people across Ireland.
One of the garden owners who was part of the initiative commented that she was "more than thankful for the help received. Everything was left clean and tidy and they worked in the rain, hard as could be."
Employee volunteering is part of Gas Networks Ireland's corporate responsibility strategy, where the organisation aims to deliver their services in a sustainable manner that contributes to the protection of the environment while supporting the social and economic development of their communities.
Gas Networks Ireland recently published its first sustainability report which highlights its progress in implementing the principles of the United Nations' Sustainable Development Goals across the business. "Sustainability in Action" has three pillars of sustainability – environmental impact, social impact and economic impact.
To help with Age Action's Care and Repair programme, Gas Networks Ireland also donated a van to the charity. The van will be the dedicated transport for volunteers carrying out small repair jobs in the homes of older people.
Employees from Gas Networks Ireland also collected unwanted clothes. The donated items will be sold through Age Action Ireland's network of charity shops in Dublin, Cork, Kildare, Monaghan and Galway.
Since the start of the year, Gas Networks Ireland has donated €2 to Age Action Ireland's 'Care and Repair' programme for every customer experience survey completed.
Additionally, in 2017 Gas Networks Ireland donated €50,000 worth of carbon monoxide alarms to Age Action Ireland. The alarms were installed in the homes of vulnerable older people across the country.
Marie Lyster, Customer Experience Manager, Gas Networks Ireland: "We are delighted to partner with Age Action as our beneficiary charity this year. Taking care of the elderly is very important to us at Gas Networks Ireland, as we are committed to providing the best customer service possible for all our customers, and in particular, we make specific provisions for vulnerable customers."
"We admire the work that Age Action Ireland does and hope that our contributions will help reach increased numbers of older people in need of support."
For more information on registering as a vulnerable customer with Gas Networks Ireland: Customer Service Line 1800 464 464 (Monday to Friday 8am – 8pm and Saturday 9am – 5.30pm).
ENDS
Notes to Editor
About Gas Networks Ireland: Gas Networks Ireland is the business division of Ervia that owns, builds and maintains the natural gas network in Ireland and connects all customers to the gas network. Gas Networks Ireland operates one of the most modern and safe gas networks in the world and ensures that over 700,000 homes and businesses receive a safe, efficient and secure supply of natural gas, 24 hours a day, 365 days a year. Ervia is a commercial semi-state multi-utility company with responsibility for the delivery of gas and water infrastructure and services in Ireland.
Gas Networks Ireland 2018 Sustainability Report
The full report, "Sustainability in Action", can be found at:
https://www.gasnetworks.ie/corporate/company/our-commitment/sustainability-report/
Gas Networks Ireland 2018 Sustainability Highlights
First sustainability report published
94 % recycling rate
42% improvement in energy performance from 2006 baseline exceeding Public Service Energy Monitoring and Reporting Target
Signed up to the Low Carbon Pledge
1 in 3 employees volunteer on our community programmes
68 community initiatives supported
Business Supporter of the All-Ireland Pollinator Plan and implementation of the Biodiversity Enhancement Programme
Establishment of Energy Environmental Working Group to support an integrated and strategic approach across Gas Networks Ireland
Roll out of Compressed Natural Gas vehicles and infrastructure
Secured funding for GRAZE Gas renewable gas test site and advanced deployment of Renewable Gas for 2019 delivery
Continuous awareness and training initiatives
About Age Action
Age Action is Ireland's leading advocacy organisation for older people. Age Action works to ensure that older people's voices are heard at the highest level of Government and that the lived experience of older people informs policy responses to their needs.
Age Action supports and advocates for equality and human rights for all older people. Everything we do is based on a recognition of the diversity of identity and situation among older people and a concern for equality for all older people. In addressing ageing, our work includes a concern to influence perspectives on and responses to ageing. This pursuit of equality and human rights is underpinned by our work to promote ageing in place, life‐long learning, and health and wellbeing for older people, empowering them to live as active citizens.
Our work is driven by an organisation that is professional in its operations and lives out its values of dignity, participation, diversity, social justice, and professionalism.
About Age Action's 'Care and Repair' Programme
Age Action's Care & Repair programme is a service that helps to keep people living in their own homes in increased safety and comfort. As we grow older, basic household tasks can become very difficult to manage. Those small jobs like changing a lightbulb, putting up a shelf or the dreaded assembling of flat pack furniture become a major problem for someone suffering from illness, limited dexterity or reduced mobility. For those older people who are in the unfortunate position of not having family members calling, these tasks can become a source of great frustration. Ultimately these problems can make the difference between staying at home and moving to residential care.
The Care and Repair programme is delivered by trustworthy volunteers who carry out small DIY jobs free of charge for older people. Jobs that the Care and Repair programme can do include fixing shelves, changing locks, painting/ decorating, moving furniture and gardening. In 2018 volunteers carried out 9,456 Care and Repair jobs in the homes of older people.