From Cavan to Caen, the first Zero Carbon Truck takes the Beef to France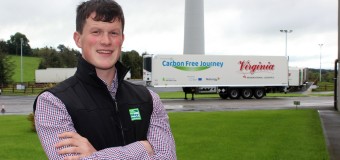 Virginia International Logistics has become the first haulier in Ireland to complete a zero carbon Heavy Goods Vehicle's (HGV) delivery to Europe. The trucks were fuelled by compressed renewable gas also known as Bio Compressed Natural Gas (CNG) to transport freight to the continent.  The first European load was a consignment of processed beef from Liffey Meats in Ballyjamesduff going to Caen in Northern France.  The total round trip is 1,121 km. 
Ireland's commercial transport fleet makes up just 3% of vehicles on the road, yet is responsible for approximately a fifth of transport's carbon emissions.  Switching to CNG can reduce a HGV's emissions by up to 22%.  By using bio CNG in the same vehicle, the carbon emissions are eliminated. These new vehicles also run more quietly reducing noise pollution.
This journey was powered using certified renewable gas purchased from biomethane producers in Europe and delivered to Virginia International Logistics through Gas Networks Ireland's gas network.  There is however significant potential to produce indigenous renewable gas in Ireland at a lower cost.
The Government's Climate Action Plan commits to setting of a target by the end of this year for renewable gas on the network by 2030. It also states the need to establish the necessary supports to deliver this target. Gas Networks Ireland fully supports the setting of a challenging target and corresponding support scheme.  
CNG for transport is one of the key gas technologies set out in Gas Networks Ireland's Vision 2050 published this week which outlines how it can reduce Ireland's total carbon emissions by one third and create a net zero carbon gas network.
Additionally, Gas Networks Ireland has already successfully injected renewable gas into the Irish network and a second gas injection facility is currently in the planning process in Co. Cork.    This facility will produce renewable gas for heating and transport, supporting Ireland's growing CNG fleet to switch renewable gas. 
Ian O'Flynn, Head of Commercial and Corporate Affairs at Gas Networks Ireland said: "Ireland's transport emissions continue to rise, while this is the by-product of much welcomed economic and employment growth, as a country we face significant challenges to meet our emission reduction targets. Gas Networks Ireland is leading the development of this new, cleaner transport network, to support Ireland in reducing its carbon emissions and to give Ireland's fleet operators sustainable energy options."
Virginia International Logistics has been focussed on reducing the emissions from their fleet since 2012.  In 2012, they invested in dual fuel vehicles and last year, they made the switch to Compressed Natural Gas.  By December of this year, they are aiming to have 30 low carbon CNG trucks on their fleet. All of these trucks can run on renewable gas.
Ray Cole, Transport Director, Virginia International Logistics said "This is the latest low carbon milestone for Virginia Transport.   Transport is changing and we are proud to be leading the way in Ireland in moving to a cleaner energy future.  We are proud to be able to deliver for Liffey Meats and other customers in the most sustainable way by offering zero carbon shipping, in Ireland, the UK and onto the continent"
The expansion of the Virginia Transport fleet and the installation of the re-fuelling technology is supported by Gas Networks Ireland.  Gas Networks Ireland is developing a network of 150 CNG stations in Ireland.  The first public CNG fuelling station in Circle K Dublin Port opened earlier this year.  A further six public stations are in planning and development.
ENDS
About Gas Networks Ireland
Gas Networks Ireland is the business division of Ervia that owns, builds and maintains the natural gas network in Ireland and connects all customers to the gas network.  Gas Networks Ireland operates one of the most modern and safe gas networks in the world and ensures that over 700,000 homes and businesses receive a safe, efficient and secure supply of natural gas, 24 hours a day, 365 days a year.
Virginia International Logistics
Virginia International Logistics (VIL) is a family owned business which was founded in 1982. With locations in Virginia, Co. Cavan; Kells, Co. Meath; Ballycoolin, Co. Dublin and Tamworth in the UK, VIL currently employs over 180 people. With a fleet of 120 trucks including CNG Vehicles and over 400 trailers, VIL operates temperature controlled, dry freight, bulk liquid and  containerised trailers for all sectors including food, electronics, pharma, manufacturing and ADR dangerous goods.
About Compressed Natural Gas (CNG)
CNG is natural gas which has been compressed to fit into a Natural Gas Vehicle's (NGV) tank and is particularly suitable for use in commercial vehicles. It is a proven alternative to diesel or petrol and reduces transport costs by up to 25% and carbon emissions by over a fifth. There are an estimated 25 million NGVs in operation worldwide, and almost two million in Europe.
CNG is the ideal fuel for decarbonising large Ireland's commercial transport fleet which makes up just 3% of vehicles on the road, yet is responsible for approximately a fifth of transport's emissions.  Switching to CNG can reduce a Heavy Goods Vehicle's (HGV), emissions by up to 22%.  In the future, these vehicles can achieve zero carbon transport when operating on renewable gas. Gas Networks Ireland has a strategic plan to achieve 20% renewable gas on the network by 2030.
In August Gas Networks Ireland and Circle K, launched Ireland's first publicly-accessible, fast-fill CNG station at Circle K's Dublin Port premises. The project is co-financed by Gas Networks Ireland and the European Union's Connecting Europe Facility as part of Gas Network Ireland's Causeway Project. 
Compared to diesel, CNG delivers the following emissions savings:
| | |
| --- | --- |
| Comparison | % Reductions |
| Emissions reduction | Up to 22% reduction on diesel |
| Nitrous oxide (NOx) | 70% reduction in emissions |
| Sulphur dioxide (SOx) | 80% reduction in emissions |
| Particulate matter | 99% reduction in emissions |
The Causeway Project will see the formation of an initial national refuelling network together with renewable gas injection and the deployment of CNG vehicles. The delivery of 14 fast fill CNG stations will represent the first significant deployment of CNG refuelling infrastructure in Ireland. The provision of a renewable gas injection facility will play a significant role in delivering sustainable renewable gas to Irish gas customers in support of a sustainable indigenous energy source.