Firsts for Ireland in EU-funded 'Causeway' to Greener Transport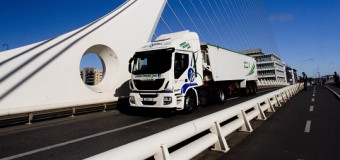 Wednesday, 3 January, 2018: NUI Galway and Gas Networks Ireland are leading a new transport revolution as they introduce compressed natural gas (CNG) and renewable gas for trucks, vans and buses.  
The 'Causeway' project also marks a first for NUI Galway, as this is the first time that the University has been successful in securing a funding application from the European Union's Connecting Europe Facility. The Causeway project received approval for €6.5 million co-funding from the European Commission. 
Causeway will see the development of a natural gas transport re-fuelling network in Ireland.  The project will support an overall nationwide roll-out of 70 compressed natural gas filling stations. In addition to this, a renewable gas injection facility will be built in 2018. This will introduce renewable gas into the natural gas network for the first time. The work which is undertaken in Ireland will be monitored and documented by NUI Galway. This research will then be fed back to gas operators all over Europe and will assist in the development of similar projects across the continent. 
Commenting on the project, President of NUI Galway, Dr Jim Browne, said: "This is a major project for NUI Galway to be involved in, as it will form the basis of the first use of an alternative, sustainable transport fuel in Ireland. Within our Ryan Institute for Environment, Marine and Energy Research, in particular, we have built up a track record in sustainability research and innovation. This includes decades of scientific and engineering expertise built up in the area of renewable gas. We look forward to NUI Galway playing a key role in distilling and disseminating the results and impacts of the Causeway Project, not only for the benefit of Ireland, but to provide learnings to other EU member states too."
Denis O'Sullivan, Head of Commercial at Gas Networks Ireland, explained the importance of the project to Ireland: "Transport accounts for over one third of all energy used in Ireland. The development of a natural gas transport network will significantly de-carbonise Ireland's commercial fleet. CNG, and the soon to be introduced renewable gas, will play a major role in making transport in Ireland cleaner. Gas Networks Ireland is determined to play an important role in facilitating the development of this new, cleaner transport network. It is particularly important that the advances we are making through this project, and through the work of NUI Galway, will play a role in changing the transport landscape throughout Europe."  
The Causeway project, which is funded under the EU's Connecting Europe Facility (CEF), will deliver a clean energy project for Ireland's transport sector, and in doing so, provide a template for the rest of Europe. NUI Galway is leading the dissemination element of the €25 million project. Its work will facilitate new green energy developments across Europe.
Professor Charles Spillane, Director of the Ryan Institute at NUI Galway, praised the application teams: "I congratulate both the Gas Networks Ireland and Ryan Institute teams that worked together diligently, over a couple of years, to bring about the success of the Causeway application to the EU's Connecting Europe Facility – Transport. I thank current staff Pádraic Ó hUiginn, Dr Rory Monaghan and Suzanne Nolan, amongst others, for enabling the University's involvement in this successful application. I look forward to the infrastructural roll-out by Gas Networks Ireland and to its impacts, which will be studied and disseminated by a Ryan Institute team at NUI Galway."
-Ends-
Notes to Editors
Total amount of funding: The Connecting Europe Facility – Transport (CEF – Transport) supports innovation in the transport system to improve the use of infrastructure, reduce the environmental impact of transport, enhance energy efficiency and increase safety. The total EU budget for CEF Transport is €24.05 billion for the period 2014-2020. The Causeway project received approval for €6.5 million co-funding from the European Commission.
Project duration: The CEF – Transport co-funded project will run to the end of 2020.
No of stations: The delivery of 14 fast-fill compressed natural gas (CNG) stations in the first roll-out, will be the first significant deployment of CNG refuelling infrastructure in Ireland. 
Vehicle support fund details: Up to €20,000 is available to businesses towards the purchase of a new natural gas vehicle. The vehicle fund will assist vehicle operators to purchase a dedicated natural gas vehicle (NGV), in place of an equivalent diesel or petrol-fuelled vehicle. The fund will make a total of €700,000 of funding available to transport operators. Applicants can apply for the Vehicle Fund by requesting the Vehicle Fund application form from tenders@ervia.ie quoting reference '17/029 Vehicle Fund'.
Biomethane grid injection: The biomethane grid injection facility will play a significant role in delivering renewable gas to Irish gas customers, using a sustainable indigenous energy source.
About the Ryan Institute for Environmental, Marine and Energy
The Ryan Institute is NUI Galway's hub for Environmental, Marine and Energy research and contributes to some of the most important national and international, long-term, environmental, marine and energy research issues. The Ryan Institute's affiliated researchers are committed to knowledge sharing and collaboration across the sciences, engineering, social sciences and medicine. Visit:
http://www.nuigalway.ie/ryaninstitute/
About Gas Networks Ireland
Gas Networks Ireland is the business division of Ervia that owns, operates and develops the natural gas network in Ireland and connects all customers to the gas network. Gas Networks Ireland operates one of the most modern and safe gas networks in the world, consisting of 13,954km of pipeline around Ireland. We ensure that almost 680,000 homes and businesses receive a safe, efficient and secure supply of natural gas, 24 hours a day, 365 days a year. Ervia is a commercial semi-state multi-utility company with responsibility for the delivery of gas and water infrastructure and services in Ireland. 
About NUI Galway
The University was established in the heart of Galway City, on the west coast of Ireland, in 1845. Since then it has advanced knowledge teaching and learning, through research and innovation, and community engagement.
Over 18,000 students study at NUI Galway, where 2,600 staff provide the very best in research-led education.
NUI Galway's teaching and research is recognised through its consistent rise in international rankings. The University is placed in the Top 250 of both the Times Higher Education (THE) World University Rankings 2016/2017 and the QS World University Rankings 2016/17.
With an extensive network of industry, community and academic collaborators around the world, NUI Galway researchers are tackling some of the most pressing issues of our times. Internationally renowned research centres based here include CÚRAM Centre for Research in Medical Devices, Insight Centre for Data Analytics, Moore Institute, Institute for Life course and Society and The Ryan Institute for Environmental, Marine and Energy.
NUI Galway has been listed as one of the most beautiful universities in Europe according to Business Insider. For more information visit
www.nuigalway.ie
or view all NUI Galway news here.
*The University's official title is National University of Ireland Galway. Please note that the only official abbreviation is NUI Galway.