Would you like to go 'Wild about Sustainability' with Fota Wildlife Park?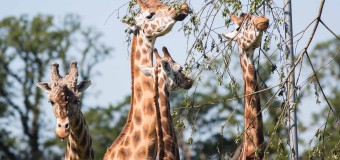 Want to know more about your favourite animals and the clever ways Fota Wildlife Park is working to make their homes as sustainable as possible?
Suitable for the young and young at heart, Director of Fota Wildlife Park, Sean McKeown, will take you behind the scenes and share what Fota is doing to support its animals and the environment, with quizzes and family passes up for grabs.
Learn about the most sustainable ways to feed giraffes and how they make bison's bedding from leftover giraffe feed; hear how geothermal heating is used in the tropical house and why it's so important to reptiles and cold-blooded animals; and even discover how useful the animals' dung is. 
You will also have the opportunity to ask the animal rangers all about their jobs and the animals they look after.
Lynda McSweeney, Head of Education at Fota Wildlife Park, said: 
"We are delighted to partner with Gas Networks Ireland to give the public the opportunity to enjoy a unique insight into what we and the animals do to be wild about sustainability at Fota Wildlife Park.
"As a conservation organisation, being sustainable is very important to us. Our education department teaches in excess of 19,000 students annually through Fota's formal education programmes and we welcome this and any engagement opportunities that help to protect the environment."
Anne Moore, Sustainability Manager at Gas Networks Ireland, said:
"We're really looking forward to learning about what Fota Wildlife Park does to be sustainable. Sustainability is a strategic focus for Gas Networks Ireland, driven by our role in delivering a clean and affordable energy future for Ireland."
"We are committed to playing a key role to encourage everyone to work together towards protecting our environment and preserving our future. Our award-winning Biodiversity Enhancement Programme supports the All-Ireland Pollinator Plan. Together with Cork City Council, we opened a "bug hotel" in Shalom Park beside the company's head office. We are also creating a network of pollinator-friendly habitats nationwide, conducting ecology surveys, planting wild flower meadows and erecting bird nesting boxes … as well as producing honey from our very own beehives!"