Gas Networks Ireland funding Natural Gas Vehicles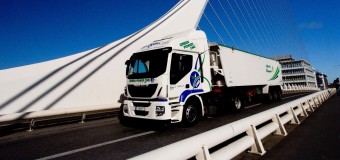 Gas Networks Ireland today opened the second round of the Compressed Natural Gas Vehicle Fund.
The Fund supports the purchase of Compressed Natural Gas (CNG) powered commercial vehicles including trucks, buses and vans. Grants to support the purchase of 33 vehicles have already been awarded to 18 transport companies in Ireland as part of this scheme.
The Compressed Natural Gas Vehicle Fund is supported by the Commission for Regulation of Utilities (CRU) in Ireland and is co-financed by the European Union's TEN-T Programme under the Connecting Europe Facility as part of the Causeway Project.
CNG is natural gas which has been compressed to fit into a Natural Gas Vehicle's (NGV) tank and is particularly suitable for use in commercial vehicles. It is a proven alternative to diesel or petrol and reduces transport costs by up to a quarter and carbon emissions by 22%. These vehicles can achieve zero carbon transport when operating on renewable gas. There are an estimated 25 million NGVs in operation worldwide, and almost two million in Europe.
Ray Cole, Transport Director with Virginia International Logistics (VIL) said:
"Receiving this funding helped us to purchase six NGVs, reduce emissions and lower our fuel costs. As part of our "Green Logistics" policy, introducing CNG fuelled vehicles is one of the ways we are reducing our carbon footprint. The customer demand for alternate fuel transport is also increasing as companies focus even more on having a lower carbon supply chain. Embracing CNG also contributed to VIL being awarded International Haulier of the year and Irish Haulier of the year at the Fleet Magazine Awards last year."
Ian O'Flynn, Head of Commercial and Corporate Affairs at Gas Networks Ireland said:
"Transport accounts for over 20% of carbon emissions and almost a third of Ireland's energy consumption. Only 3% of vehicles on Irish roads are HGVs, however they use 20% of Ireland's transport energy. Making this funding available will help transport companies to purchase NGVs, reduce emissions and contribute to reducing Ireland's carbon footprint."
"It is very encouraging that the Government recognises the potential and opportunity for CNG in transport. The recently published Climate Action Plan calls for increased levels of CNG and outlines goals to deliver public CNG fuelling stations and make further grants available."
Applications for the Compressed Natural Gas Vehicle Fund are now being accepted. More information available on: www.gasnetworks.ie/vehiclefund
ENDS
Notes to Editor:

About Gas Networks Ireland
Gas Networks Ireland is the business division of Ervia that owns, builds and maintains the natural gas network in Ireland and connects all customers to the gas network. Gas Networks Ireland operates one of the most modern and safe gas networks in the world and ensures that over 700,000 homes and businesses receive a safe, efficient and secure supply of natural gas, 24 hours a day, 365 days a year. Ervia is a commercial semi-state multi-utility company with responsibility for the delivery of gas and water infrastructure and services in Ireland.
More about Compressed Natural Gas (CNG)

CNG is natural gas which has been compressed to fit into a vehicle's tank and is particularly suitable for use in commercial vehicles. A proven alternative to diesel or petrol, CNG can provide a fuel cost saving of up to 25%. Emission reduction benefits saving of 22% reduction in Carbon Dioxide emissions per unit of energy, a 70% reduction in Nitrogen Oxide emissions, a 99% reduction in Particulate matter emissions and an 80% reduction in Sulphur Dioxide emissions compared with diesel.

Compared to diesel, CNG delivers the following emissions savings:
| | |
| --- | --- |
| Substance | CNG Emissions Savings |
| CO2 | 22% |
| Nitrogren oxide | 70% |
| Sulphur dioxide | 80% |
| Particulate matter | 99% |

Diesel related emissions are a serious concern throughout Europe, primarily due to the health impact of poor air quality. A number of major cities are now taking steps to ban diesel cars and promote cleaner alternatives.  In late 2016, Paris, Madrid and Athens all announced a ban on diesel cars and trucks by 2025.  In a recent report, the Environmental Protection Agency indicated that without moving to 'clean transport choices' we would face nitrogen dioxide levels in cities which would exceed WHO recommendations. 
About The Causeway Project
The Causeway Project will see the formation of an initial national refuelling network together with Renewable Gas injection and the deployment of seed Natural Gas Vehicles. The delivery of 14 fast fill CNG stations will represent the first significant deployment of CNG refuelling infrastructure in Ireland. The provision of a Renewable Gas injection facility will play a significant role in delivering sustainable Renewable Gas to Irish gas customers in support of a sustainable indigenous energy source. Following the completion of the project, the full national network will be rolled out. 
In addition to the development of the CNG Network and Renewable Gas injection facility, The Causeway Project has a significant research component. This element will identify key data relating to the roll out of a CNG network in a small, relatively discrete market.  The data gathered from this study will assist in the further roll out of sustainable transport networks throughout the EU.