Galway Student wins National Safety Competition sponsored by Gas Networks Ireland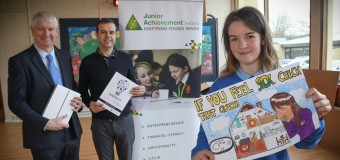 Maya Demianiuk from 6th class in Scoil Chaitríona Senior, Renmore, Galway, won a nationwide poster competition to raise awareness of carbon monoxide and the dangers that it can pose in our homes.
At the beginning of the school year Junior Achievement Ireland (JAI) in partnership with Gas Networks Ireland called for entries to its carbon monoxide safety poster competition. Students who completed the in-classroom Energize programme were eligible to enter.
The competition received hundreds of entries from all over Ireland however, Maya's poster, featuring the heading "If you feel sick, check that quick", was deemed first among equals. Thanks to Maya's efforts she was presented with an iPad by Gas Networks Ireland for use in her school classroom.
Maya was guided by their Energize programme volunteer Audrey Haydens from ARM Ireland Ltd. and teacher Michael Mulkerrins. Further carbon monoxide poster competitions will take place in the next two school terms.
The Energize programme is delivered to over 5,000 primary school students around Ireland. The programme introduces science to primary school students through practical and engaging classroom-based lessons. Carbon monoxide awareness is an important element of the Gas Networks Ireland supported programme. The overall aim of the programme is to cultivate an interest in science so that students continue with the subject to second level education.
Class teacher Michael Mulkerrins said: "The Energize programme really supported the curriculum and made science fun and interesting for my class. The opportunity to be creative, paired with practical safety lessons, allowed the students to really engage with the carbon monoxide poster competition. We are delighted Maya has won this award, it's a great testament to her hard work. Thanks to Audrey Hayden for delivering the Energize programme– she was a great role model for the working world - and Gas Networks Ireland for supporting such an important initiative."
Ian O'Flynn, Head of Commercial and Corporate Affairs at Gas Networks Ireland commented: "As science, technology, engineering and maths expertise is at the centre of our business, at Gas Networks Ireland, we're big supporters of (STEM) education. As sponsors of the Energize programme, we want to develop students' interest in STEM subjects, with the ultimate aim of inspiring the workforce of the future to pursue STEM careers.  
Congratulations to Maya and all in Scoil Chaitríona for winning the Term 1 Energize art competition.  I'm delighted that so many schools have already engaged with Energize and that we've received entries to our carbon monoxide safety poster competition from schools across Ireland. Most importantly, more students are now aware of the dangers of carbon monoxide and will be able to spot the warning signs in the future".
If you would like to register your interest in having Energize delivered in your school, please contact Junior Achievement Ireland at info@jai.ie
ENDS
Notes to Editor:
Media queries:
Marie Sheehan
PR Manager Gas Networks Ireland
087 754 8968
Marie.Sheehan@gasnetworks.ie
About Gas Networks Ireland
Gas Networks Ireland is the business division of Ervia that owns, builds and maintains the natural gas network in Ireland and connects all customers to the gas network. Gas Networks Ireland operates one of the most modern and safe gas networks in the world and ensures that 700,000 homes and businesses receive a safe, efficient and secure supply of natural gas, 24 hours a day, 365 days a year. Ervia is a commercial semi-state multi-utility company with responsibility for the delivery of gas and water infrastructure and services in Ireland.
Energize
An integral part of Gas Networks Ireland's Corporate Responsibility Strategy is fostering students' interest in STEM subjects. To help promote careers in science to primary school students and encourage them to study science subjects at second-level, we launched our STEM education programme, Energize, in partnership with Junior Achievement Ireland in 2018.
Energize is a class-room style education programme based on the 'learning by doing methodology' and takes the place of our previous STEM programme Our Universe. The programme is made up of five modules spanning the fundamentals of science from renewable energy awareness to safety in the home. It includes an essential module on carbon monoxide safety.
Energize is available to 5,000 6th class students nationwide. Each year, 200 volunteers from businesses around the country will be recruited, trained and supported by Junior Achievement Ireland to facilitate the roll-out of the programme.
About Junior Achievement Ireland
Junior Achievement (JA) programmes facilitated by business volunteers encourage young people to remain in education and help them develop the skills they need to succeed in a changing world. Working with schools and business partners, JA programmes promote work readiness, financial literacy, entrepreneurship and the value of studying STEM.
Junior Achievement Ireland (JAI) utilises the experience of those already in the workforce to help children of all ages to fully understand the important role that education will play in shaping their futures.  JA business volunteers are recruited, trained, vetted, equipped and supported to deliver hands-on learning experiences that empower students to make connections between what they learn in school and how it can be applied in the real world.
JAI is part of a worldwide organisation reaching out to over 10 million young people each year. It was established in Ireland in 1996 and since then has built up a strong demand from schools throughout the country and created successful partnerships with 180 leading organisations.