May Demand Statement
Gas demand up in most segments as economy re-opening well established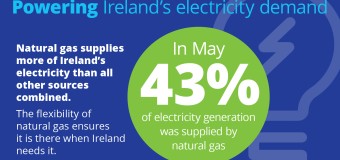 Gas demand was up year on year across most segments of the economy in May as Ireland continued to reopen and recover from the COVID-19 pandemic.  
Sectors hardest hit during the pandemic, including hotel (+42%), construction (+31%), leisure (+146%) and laundry (+32%), have all begun to recover strongly and are now well ahead of demand in May 2020, while sectors that were robust during the pandemic continue to perform strongly, such as Food and Drink (+6%), Manufacturing (+36%), Hospitals (+32%) and Pharmaceuticals (+5%).
Gas Networks Ireland's Head of Regulatory Affairs, Brian Mullins, said:
"The increase in gas demand across virtually every sector of the economy is a strong sign that Ireland is beginning to open up and our economy is beginning to function more normally.  We would hope to see this trend continue in the coming months."
Gas demand for power generation in the Republic of Ireland fell by 27% compared to May 2020, with a number of gas fired power plants on scheduled and unscheduled maintenance. Despite this, gas still provided the largest share of generation at 43%, down 10% on April's sixth month high. Wind provided 27%, up 3% month on month, while coal's share rose to 11% (+2%) and imported electricity through the interconnector to Great Britain provided 9% (+2.2%). 
At times during the month gas generated between 23% and 57% of Ireland's electricity, with wind ranging between 2% and 63%. Coal accounted for as much as 17% at its peak on 26 May. At their peak the interconnectors provided nearly one quarter of Ireland's electricity demand.
"The scheduled and unscheduled maintenance of a number of power plants has caused a significant reduction in gas demand for power generation.  While gas remains the largest contributor to the electricity generation mix, the dip in availability has seen coal re-emerge in terms of supply. 
"Investment in modern, efficient gas power plants is critical in order to maintain our energy security and to facilitate the ongoing drive to increase the deployment of renewables. With increased demand for electricity from homes, businesses and increasingly in new technologies such as electric vehicles, electricity demand will continue to grow."
Residential demand continued to be strong as the relatively cold weather persisted in May. Mean temperatures in May were almost two degrees lower than in 2020 leading to an 18% increase in residential gas demand on the same month last year.