Our gas network is in good hands
With COVID19 impacting all our lives, now, more so than ever, it is crucial Gas Networks Ireland delivers a safe, reliable and secure gas supply to our 700,000 gas customers 24/7.
Working on the frontline, Gas Networks Ireland's Field Operations Technicians make sure that our high pressure gas transmission system operates effectively and safely around the country to transport gas to our hospitals, health care centres, and power generation plants.
This ensures we have electricity at our finger tips, in our homes, and in businesses providing essential services.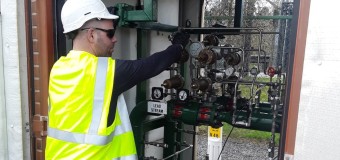 Neil Doyle, Field Operations Technician
On any given day, making sure our network works well is an important job but in these times it's absolutely vital to ensure gas supply is not interrupted and there are no safety issues.
That's where Field Operations Technicians like Gas Networks Ireland's Neil Doyle come in.
"While Covid-19 has paused lots of things, we, as Field Operations Technicians, continue to respond to critical jobs, which can mean dealing with high risk tasks that can have huge impact," Neil said.
"We work on our transmission network, which is made up of large high pressure gas pipes that bring gas to our cities, towns, communities and customers who require large volumes of gas. These pipes connect to our distribution network bringing gas to our homes and businesses.
"Recently, Network Specialist Shane Dollard and I dealt with a mechanical issue at Drumgill Above Ground Installation (AGI). Our transmission network connects to our distribution network via AGI's which are pressure reduction stations. 
"This job at Drumgill - ultimately prevented over 2,000 homes and businesses from being without gas supply, including a primary health care facility in the areas of Kingscourt, Co Cavan, Carricmacross, and Lough Eglish Industrial Park, Co Monaghan.
"Maintaining the recommended physical distance on detailed work like this is very challenging but it's important to make sure that we are safe too. Equipped with great advice from our Safety Team and the HSE, wearing Personal Protective Equipment (PPE), Shane and I worked through the day and into the night on this high-pressure four-bar outlet.
"It was a long day, but we were delighted to get the system back to normal operation and prevent supply being affected for those 2,000 homes and businesses, which is so important at this time."
Around the country, Gas Networks Ireland's Field Operations Technicians are working on critical tasks like these every day to make sure that our network continues to deliver and ensure we have gas available for all that we need.
To all of our Field Operations Technicians, Gas Networks Ireland say a huge 'thank you' for all that you do and applaud your commitment and dedication in these challenging and uncertain times.
We can proudly say that our gas network is in good hands.