Gas Networks Ireland and Clean Ireland Recycling open nation's first Compressed Natural Gas (CNG) re-fuelling station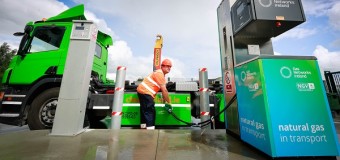 Alternative transport fuel will see Clean Ireland Recycling in Ireland become the first waste management company to operate CNG fuelled trucks
Comprehensive national network of re-fuelling stations planned to reduce transport costs as well as emissions for businesses
Gas Networks Ireland and Clean Ireland Recycling today officially opened the first private fast-fill CNG station at the Clean Ireland Recycling premises in Smithstown Industrial Estate, Shannon, Co. Clare. The Shannon site is part of Gas Networks Ireland's strategy to further develop a market for natural gas as a lower-emission transport fuel. Gas Networks Ireland is developing a comprehensive national CNG refuelling network that will provide nationwide coverage for vehicles operating on Irish roads.
A CNG compressor and private refuelling station have been installed at Clean Ireland Recycling's Shannon operation, and the company, a leader in environmentally-friendly waste management services since its establishment in the early 1990s, has also received delivery of dedicated CNG waste collection vehicles, the first of their kind in Ireland. The specially-commissioned, lower-emission Scania CNG trucks will replace some of Clean Ireland Recycling's diesel-powered fleet, with the rest of the fleet also transitioning to CNG in the coming years.
CNG is natural gas that has been compressed to fit into a vehicle's tank and is particularly suitable for use in commercial vehicles. A proven alternative to diesel or petrol, CNG provides the greatest cost saving (35%) and emission reduction benefits (up to 22% less carbon dioxide, 70% less nitrogen oxide, 80% less sulphur dioxide, and 99% less particulate matter) for transport operators. CNG is an established technology throughout the world, with 25 million NGVs in operation globally with 1.9 million of these vehicles in Europe.
Denis Naughten T.D., Minister for Communications, Climate Action and Environment:
"Transport is a critical part of our economy.  It is also a significant driver of Ireland's emissions profile. Currently, commercial and public transport vehicles using diesel account for 3% of the vehicles on Irish roads, but account for over 20% of the total road transport emissions.  Businesses like Clean Ireland Recycling show that there is an appetite to change to the cleaner and more cost-effective alternative offered by Compressed Natural Gas. This is a welcome step and marks a progressive development for Ireland's commercial fleet sector.  Today's announcement is the first of many in the coming months from Gas Networks Ireland, as they introduce CNG, and ultimately Renewable Gas, as a new transport fuel in Ireland.  I would like to congratulate Clean Ireland Recycling and Gas Networks Ireland for their innovation in and dedication to building a cleaner Ireland."
Denis O'Sullivan, Managing Director, Gas Networks Ireland:
"We are delighted to open the first private fast-fill CNG station here today at Clean Ireland Recycling. Waste collection vehicles are notoriously energy intensive and Clean Ireland Recycling are proving their innovation and sustainability credentials by adopting CNG technology, and deploying the first CNG waste collection vehicles in Ireland."
"CNG, and in the near future Renewable gas, will play a major role in making transport in Ireland cleaner.  Gas Networks Ireland is determined to play our role in facilitating the development of a new, cleaner transport network for Ireland."
Brian Lyons, Director, Clean Ireland Recycling:
"Lowering our carbon footprint is a priority for our business and for our customers. From the moment we started operations in the early 1990s, we have been a pace setter in our industry nationally in terms of introducing environmentally-friendly solutions, some of them ground-breaking. The development of the CNG facility at our site in Shannon is a perfect example. Transitioning our waste collection fleet to CNG will achieve a reduction of up to 22% in CO2 emissions and a 99% reduction in particular matter. Not only does this make sense environmentally, CNG can achieve fuel cost savings of up to 35%, so the decision to adopt the technology is the smart choice.
"Customers are becoming more focused on the sustainability of their supply chain and, if we are asking them to adopt environmentally-friendly waste management initiatives, we need to practice what we preach. We are delighted to be the first to adopt this offering nationally and it's a move that I believe should be replicated across the country. Clean Ireland Recycling already provides a 'zero – landfill' waste service to our customers. I believe we are getting close to a situation where environmental policy will play a key role in public sector tender processes.  It is already a consideration for some private sector businesses.  The decision we have made to invest in a CNG fleet is not just environmentally smart, it makes sense in pounds, shillings and pence."
In 2017, Gas Networks Ireland launched its Compressed Natural Gas Vehicle Fund making up to €20,000 available to businesses towards the purchase of a new Natural Gas Vehicle (NGV). The Vehicle Fund has made a total of €700k of funding available to transport operators, supporting the purchase of a range of commercial vehicles including trucks, buses and vans powered by Compressed Natural Gas (CNG), and is part of a process to promote natural gas as a transport fuel in Ireland.  The Vehicle Fund is supported by the Commission for Regulation of Utilities (CRU) and is co-financed by the European Union's TEN-T Programme under the Connecting Europe Facility as part of the Causeway Project.
The Compressed Natural Gas Vehicle Fund is part of an overall strategy to provide commercial vehicle operators with a viable alternative to traditional fuels, both in Ireland and across Europe. The comprehensive national CNG refuelling network which will be rolled out by Gas Networks Ireland this year will provide coverage for a new generation of CNG vehicles operating on Irish roads, and will complement the pan European CNG network, which is currently under development.
ENDS
Issued by Murray on behalf of Gas Networks Ireland.
For further details, please contact:
Mary O'Mahony, PR Manager, Gas Networks Ireland                                        
T: 0214534545
E: Mary.OMahony@gasnetworks.ie
Joe Heron, Murray                                                                                          
T:  087 690 9735 / 01 4980315
E: jheron@murrayconsultants.ie
Aimee Beale, Murray                                                                   
T: 086 151 4024 / 01 4980330
E: abeale@murrayconsultants.ie
Notes:
Photography is available for this release and has been issued to your photo desk.
¹ Compared to diesel, CNG delivers the following emissions savings:
| | |
| --- | --- |
| Substance | CNG Emissions Savings |
| CO2 | 22% |
| Nitrogen oxide | 70% |
| Sulphur dioxide | 80% |
| Particulate matter | 99% |
About Gas Networks Ireland:
Gas Networks Ireland is the business division of Ervia that owns, builds and maintains the natural gas network in Ireland and connects all customers to the gas network. Gas Networks Ireland operates one of the most modern and safe gas networks in the world and ensures that almost 688,000 homes and businesses receive a safe, efficient and secure supply of natural gas, 24 hours a day, 365 days a year. Ervia is a commercial semi-state multi-utility company with responsibility for the delivery of gas and water infrastructure and services in Ireland.
About Clean Ireland Recycling:
With almost thirty years of experience in the waste management industry, Clean Ireland Recycling has developed into one of the leading providers of waste management services in the Mid-West.
Providing a full range of waste management services to both domestic and commercial customers, Clean Ireland Recycling has built up a strong reputation for the provision of legally compliant and cost-effective waste management services.
Clean Ireland Recycling has been a regular winner at the Repak/Pakman Awards, winning, among others, Best Kerbside Collection Service and the Repak Recycling Award.  The company was crowned Collector of the Year 2017 and the annual Pakman Awards in October 2017.