Gas Networks Ireland to showcase Galway's Martine's Restaurant and Wine Bar on TV3's 'The Restaurant'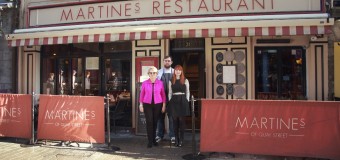 15th March, 2018: Gas Networks Ireland is delighted to showcase Galway restaurant 'Martine's Restaurant and Wine Bar' in a specially-developed short film to be aired during TV3's 'The Restaurant' on Wednesday 28th March at 9pm.  Family owned by Martine McDonagh, her son Enda Hoolmaa and daughter-in-law Tara Haugh (pictured), the Quay Street restaurant features on the fifth episode of the current series of The Restaurant which sees celebrity Mary Coughlan as the evening's guest chef, preparing her menu for review by Rachel Allen, Marco Pierre White and a guest critic.
Denis O'Sullivan, Head of Commercial, Gas Networks Ireland:  "We are absolutely delighted in our position as sponsors of 'The Restaurant' to promote local restaurants such as Martine's Restaurant and Wine bar. The restaurant sector is hugely energy intensive and Gas Networks Ireland is proud to play its part in delivering natural gas to customers in Galway.  We welcome the opportunity to be associated with this progressive restaurant, which delivers fine food and excellent service to all its patrons."
ENDS
For further information:
Murray
Jackie Phelan 01 498 0300 / jphelan@murraygroup.ie
Aimee Beale 086 151 4024 / abeale@murraygroup.ie                                                                                                                                                
Gas Networks Ireland
Mary O' Mahony 086 834 2277 / Mary.OMahony@gasnetworks.ie
Issued by Murray on behalf of Gas Networks Ireland
Notes:   
Gas Networks Ireland is the business division of Ervia that owns, builds and maintains the natural gas network in Ireland and connects all customers to the gas network. Gas Networks Ireland operates one of the most modern and safe gas networks in the world and ensures that almost 680,000 homes and businesses receive a safe, efficient and secure supply of natural gas, 24 hours a day, 365 days a year. Ervia is a commercial semi-state multi-utility company with responsibility for the delivery of gas and water infrastructure and services in Ireland.