Gas Networks Ireland acknowledges ten years of ENTSOG
EU Gas Representative Association marks key anniversary at Brussels Conference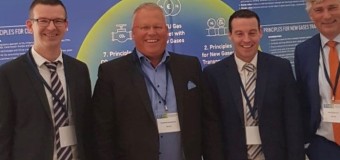 11th December 2019:  Gas Networks Ireland (GNI) representatives are in Brussels today to attend 'ENTSOG'S EVOLUTION:  FROM NETWORK CODES TO ROADMAP 2050', an EU Conference marking ten years of the European Network of Transmission System Operators for Gas, known to industry, as ENTSOG.   As Ireland's Transmission System Operator (TSO) for gas, GNI is one of the Association's 44 TSO members, which together with three Associated Partners, represent 27 European countries.
Established on December 1st 2009, ENTSOG's founding mission was to promote the completion of the European internal market for gas, stimulate cross-border trade and ensure the efficient management and coordinated operation of the European gas network.  ENTSOG has played a key role across a number of aspects of the European gas markets including:
developing Network Codes for market and system operation
coordinating the Ten-Year Network Development Plan (TYNDP)
providing regular information on gas supply and demand for the European market
future market assessment including innovation, decarbonisation and the coupling of gas and electricity systems
Prefacing today's event, Denis O'Sullivan, Managing Director, Gas Networks Ireland remarked: "Over the past decade, ENTSOG has delivered many significant achievements for its members, from developing technical and market rulebooks for gas, to harmonising gas market frameworks across Europe. It has also played a key role in broader strategic issues for the gas market such as long-term grid development plans; security of supply assessments and the development of European energy transparency platforms." 
He continued, "In an evolving landscape for our industry, we increasingly look to industry Associations for support as we realise our 'Vision 2050' plans to have a net zero carbon network for Ireland by 2050. ENTSOG's 'Roadmap 2050' as well as all its other activities, strongly support our aim. As Ireland's gas TSO, we recognise the enormous scope of work ENTSOG has achieved and wish them continued success as their focus broadens to the future role of gas and gas networks"
Brian Mullins, Head of Regulatory Affairs, Gas Networks Ireland says: "2019 is the last year of an important decade for the European energy system and the opening of a new period of transformation.  ENTSOG's achievements have been competently delivered in close coordination and consultation with European institutions, Member States and stakeholder members.  We remain committed to working together with ENTSOG in our shared drive towards a competitive, reliable and sustainable future gas network."
Notes:
¹ENTSOG's tasks are mainly defined in Regulation (EC) No 715 / 2009.   In line with Articles 6, 7 and 8 of the Regulation (EC) 715/2009, ENTSOG has the task of formulating Network Codes in a number of areas and of adopting various communications: a non-binding community-wide Ten-Year Network Development Plan (TYNDP) on a biennial basis; Winter and Summer Supply Outlooks; common network operation tools; recommendations relating to the coordination of technical cooperation between community and third-country TSOs; annual work programmes and annual reports.
ENTSOG work continues to evolve: from designing the secondary legislation and fulfilment of conferred regulatory tasks, monitoring the effects of the agreed outcomes through to responding to future challenges and building on achieved results.
About Gas Networks Ireland:
Gas Networks Ireland is the business division of Ervia that owns, builds and maintains the natural gas network in Ireland and connects all customers to the gas network. Gas Networks Ireland operates one of the most modern and safe gas networks in the world and ensures that 700,000 homes and businesses receive a safe, efficient and secure supply of natural gas, 24 hours a day, 365 days a year. Ervia is a commercial semi-state multi-utility company with responsibility for the delivery of gas and water infrastructure and services in Ireland.
Further information:
Mary O'Mahony
European Affairs - Innovation & Policy
Gas Networks Ireland
T: (021) 453 4545
E: EuropeanAffairs@gasnetworks.ie