Gas demand H1 2020 statement
Industry demand rises but overall demand falls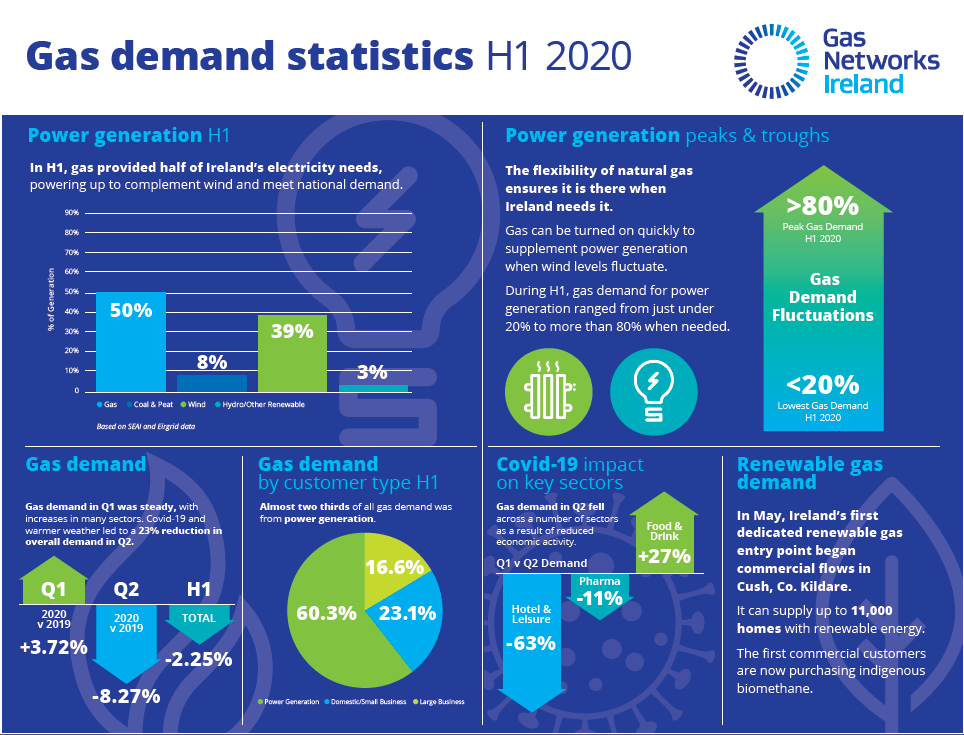 Overall gas demand rose in Q1 but fell 8.3% in Q2 leading to an overall 2.3% decrease year on year (v 2019) in H1 according to half yearly figures released today by Gas Networks Ireland.
Usage in domestic and small and medium businesses fell 29% as a result of Covid closures and warmer than usual conditions in late March and April impacting heating demand. This led to a 3.8% decrease in demand year on year for the first half of the year among this segment.  This group accounts for 96% of Ireland's 700,000+ gas customers.
Gas demand from large energy users grew 6.7% in H1, following a 21% rise in the Q1 and resiliency from the food and drink, life sciences and pharmaceutical sectors during the lockdown.
Demand in power generation was also high through H1 and in particular Q2, with gas providing over 80% of power generation at times in recent weeks. All sectors, with the exception of hotel and leisure and associated industries such as laundry service providers, have returned to normal demand pattern for the time of year.
Approximately 2,200 customers availed of a three-month suspension of network charges offered by Gas Networks Ireland, saving between €150 and €4500 during the course of the lockdown.
Gas Networks Ireland Head of Regulatory Affairs, Brian Mullins, said the impact of the Covid-19 pandemic on many business sectors was evident in the data.
"Most businesses experienced challenges during Covid-19, which impacted on gas demand, as did reduced domestic demand due to warmer weather," Mr Mullins said. "This was offset to some extent by large industry demand and the reliance on gas in generating electricity when wind cannot. The flexibility of gas makes it the ideal partner for renewable electricity sources."
The first demand for renewable gas was also a feature of H1, with commercial customers now purchasing indigenous biomethane. The carbon neutral gas is produced in Nurney, Co Kildare, and enters the network in nearby Cush via the first dedicated renewable gas injection point. The landmark facility has the capacity to heat 11,000 homes and is an important step in decarbonising the network.