Keeping gas flowing and the lights on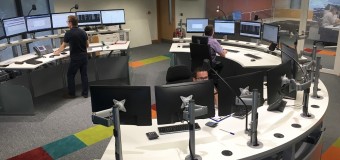 Gas Networks Ireland's Grid Control team in Cork is one of our business critical teams, working day and night, seven days a week to ensure that gas flows reliably and safely across our network, and meet our customers' gas requirements in homes, power generation stations and other essential businesses around the country.
Gas Networks Ireland's Emergency Response Manager, Liam Murphy said his team and other colleagues have rallied together to ensure that gas flows and that the lights stay on.
"Our teams of Grid Controllers and Engineers work in our control room at Gasworks Road in Cork City but because of Covid-19 we've had to get our back-up facility at Midleton, Co.Cork, up and running at rapid speed so that we could enable the teams to adhere to social distancing guidelines and work safely," Liam said.
"Our day-shift crew now operate from our Midleton facility, while our night-shift crew continue to work from the main grid control building in Cork city. This allows the team to organise a deep clean of our units between shifts so that we can provide a safe place of work for our teams and also do our bit to help stop the spread of the virus spread."
Given the critical nature of their role and the service they provide, Grid Controller Tim McCarthy said the Grid Control team are dedicated to going above and beyond to make sure it's service as usual.
"As with any small and specialised team, having a full complement of team members is essential. It's up to us to make sure that all shifts are covered and that's something we had to deal with recently, which meant working additional shift rosters to ensure it was service as usual," Tim said.
"If you've ever been a shift worker, you'll know how hard it is to get enough sleep during the day after a night shift. So you can imagine how hard it is for these colleagues with families at home at this time, and yet this is not something you'll hear the Grid Control team complain about; they just get on with it. 
"So next time you flick on your gas supply at home or plug in a phone charger, rest assured that Gas Networks Ireland's Grid Control team is working in the background to make this possible."
Many staff within Gas Networks Ireland also volunteered to provide extra support for Grid Control if needed. A strong sign of dedication not lost on Grid Controller Wayne Rogers.
"I recently joined the team and seeing this spirit of teamwork at Gas Networks Ireland has really impressed me and also made my transition into the role a lot smoother. We all appreciate the vital importance of ensuring gas gets transported around our country safely, not only for gas supply reasons but often so that gas can power electricity generation," Wayne said.