Limerick environmental project wins International Brownfield award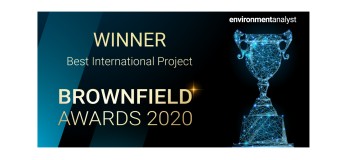 A major environmental project to remediate the former gasworks site at Dock Road in Limerick, where 'town gas' made from coal was once produced, has won the Best International Project category at the prestigious Brownfield Awards.
The Brownfield Awards are dedicated to recognising best practice in the brownfield, regeneration and contaminated land industry. 
The clean-up project, led by Gas Networks Ireland, used innovative and sustainable techniques to remove over 80,000 litres of liquid coal tar, a byproduct of the old town gas production process, and remediated over 95% of the soil on site.  The project began in 2017 and was completed in September this year. 
The award for the Best International Project was presented to WSP, leading global environmental consulting firm and technical advisers to Gas Networks Ireland for the innovative and best practice approach taken in delivering this major environmental project.  
Gas Networks Ireland's Head of Asset Management, Bobby Gleeson, said: 

"We are delighted to win this award as it recognises that we employed the most sustainable methods in remediating this historic piece of Limerick's industrial heritage.  The regenerated site is now ready for its next chapter in the Limerick history books.
"This has been a highly complex remediation in the heart of Limerick City, which was made even more challenging by the impact of Covid-19 on the project schedule. We would like to sincerely thank the residents, local representatives and the local Limerick community for their patience while we carried out these important works."