Gas Networks Ireland helps Listowel to shine bright this Christmas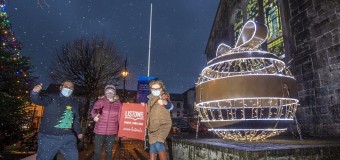 Gas Networks Ireland is spreading Christmas cheer in Listowel with a giant festive bauble light installation currently on display in the Square.
This is the second year in a row that the national network operator is embracing the Christmas spirit and co-sponsoring the Listowel Business and Community Alliance's Christmas display.
Gas Networks Ireland's New Connections Representative, David Pyne, said:
"As part of Gas Networks Ireland's sustainability strategy, it's important we give back to the communities in which we operate, and we hope that the Christmas lights bring some festive cheer to Listowel.
"Sponsoring the local Christmas lights is our way of wishing all in Listowel, a very happy Christmas.
We would also like to echo Listowel Business and Community Alliance's message and encourage you to try the town first for your Christmas shopping needs and 'support local by shopping local in Listowel'."
Gas Networks Ireland brought gas to Listowel in 2019 when it connected the town to Ireland's national gas network.