Ervia's energy leaders advise on moving Ireland towards a net zero carbon future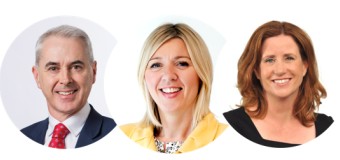 "The country needs a 'whole of energy' approach to the future. We need to stop seeing gas and electricity as separate and look at how to decarbonise the end-to-end energy system, not just individual fuels. As Ireland's gas network is one of the most modern in the world, there's a ready-made solution right under our feet. The gas network can be repurposed to carry decarbonised gases, such as biomethane and hydrogen, at minimal cost and disruption, and in turn play a critical role in an integrated gas and electricity system to decarbonise the country's energy needs."
That was the message from Ervia Chief Executive Officer, Cathal Marley, who spoke about the significant challenge Ireland is facing in delivering on its net zero vision at this week's 25th annual Energy Ireland conference.
Mr Marley was part of an Irish energy panel discussion alongside other leaders from Bord Gáis Energy, Bord na Móna, ESB and SSE.
The opening address of the three-day virtual conference was given by Eamon Ryan, TD, Minister for the Environment, Climate and Communications, who outlined his priorities for the energy sector and delivering a net-zero carbon future.
Ervia Chief Legal Officer, Claire Madden, presented on decarbonising Ireland's gas network, and the important role of natural and renewable gases in Ireland's energy transition and cleaner energy future. 
Ms Madden spoke about the role of the gas network as the cornerstone of Ireland's energy system, as well as what Gas Networks Ireland is doing to ensure the network is ready to play its role in meeting Ireland's climate action targets in line with national and European policy.
"Gas Networks Ireland's vision is for Ireland to replace natural gas with renewable gases, such as biomethane and hydrogen, to substantially reduce the country's carbon emissions while complementing intermittent renewable electricity and ensuring a secure energy supply," Ms Madden said.
"Transitioning to a clean energy economy by 2050 requires a balance between sustainability, security and affordability. Leveraging existing energy assets and capabilities will enable Ireland to reach its targets more effectively."
Ervia Chief Information Officer, Ashling Cunningham, presented on "Digitalising energy for a sustainable future."
Ms Cunningham spoke about how the Internet of Things (IoT) is transforming the power and utilities industry, with customers, employees and assets all becoming increasingly connected. 
"Our digital ambition in Ervia is to mobilise capabilities for customers, people and assets by leveraging emerging technologies. This has come into sharp focus during this pandemic by deploying a secure technology-enabled user experience that allows our workforce to operate flexibly in an office, at home or on the move," Ms Cunningham said.
"Throughout Ervia, in Gas Networks Ireland and in Irish Water, we always put safety at the heart of everything we do, and that includes cyber safety. We assume and prepare for the worst and expect the unexpected. Our approach is to minimise the risk, minimise the impact and minimise the time to respond with a proactive focus on cyber security."