Gas Networks Ireland pledges action on biodiversity with 'Seed for Nature' at National Biodiversity Conference
February 21st 2019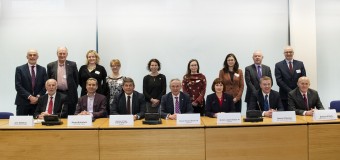 The National Biodiversity Conference: New Horizons for Nature today announced its Conference Charter, 'Our Seeds for Nature'.
The Charter was agreed at a meeting chaired by Minister Josepha Madigan in Dublin Castle on the first day of the conference (Wednesday 20th February), which was attended by Minister Bruton and Minister Doyle, along with senior leaders from 14 Government, state agency, private sector and non-governmental organisations, including Gas Networks Ireland. 
The 'Our Seeds For Nature' Charter comprises a suite of commitments for nature and biodiversity that go beyond the respective organisations' current work programmes to support, scale up and fast track the implementation of the National Biodiversity Action Plan.
Gas Networks Ireland's Seed for Nature comprises of a number of important commitments, including a pledge to manage all of its infrastructure, asset base and office locations on the island of Ireland and in Scotland in line with biodiversity best practice. While a large portion of the natural gas network is underground, there's also a significant number of above ground installations, with over 200 individual sites which are suitable for biodiversity enhancement. Gas Networks Ireland will strive to have a net positive impact on biodiversity in all its operations and infrastructural projects. As part of its renewable gas strategy, Gas Networks Ireland commits to supporting the All Ireland Pollinator Plan and the promotion of Red Clover (which is good for bees and the soil) by encouraging farmers to grow this as a feedstock crop to be used for the production of biomethane.
Gas Networks Ireland will also continue to engage with its employees, contractors and the communities in which it operates to enhance the understanding and importance of biodiversity. Finally, Gas Networks Ireland will be a proud and active participant in the Irish
Business Biodiversity Platform and will encourage knowledge sharing between members and the wider business community.
Commenting on the commitment, Managing Director of Gas Networks Ireland, Denis O'Sullivan said:
"We are one of only 33 companies in Ireland to have the Business Working Responsibly Mark which is testament to how much we value responsible business and the importance we place on playing an active part in the communities where we operate. As part of our commitment to responsible business Gas Networks Ireland is delighted to be a founding member of the Irish Business Biodiversity Platform that is being established here today."
Speaking about the Charter, Minister Josepha Madigan, TD, said:
"It's time to roll up our sleeves to support biodiversity conservation, enhancement and restoration in Ireland and I am delighted to work with my colleagues across Government and partners in the private and non-governmental sectors to commit to the new horizon for nature. Biodiversity in Ireland is facing significant threats and challenges. The commitments outlined in the 'Our Seeds For Nature' Conference Charter show that we can work together to implement a shared vision for nature, as outlined in the National Biodiversity Action Plan."
Gas Networks Ireland also won the 'Working Together for Biodiversity' Award at the Conference for its Biodiversity Enhancement Programme.
With assets all over the island of Ireland, including offices and gas installations with lots of green space, Gas Networks Ireland identified that there was a great opportunity for the company to enhance biodiversity and create a network of pollinator-friendly habitats across the country. Biodiversity enhancement measures including reduced grass cuttings, reduced use of pesticides and the erection of bird boxes have been implemented at 11 sites so far.
About Gas Networks Ireland
Gas Networks Ireland is part of Ervia. Our core purpose is to ensure that over 700,000 Irish homes and businesses receive a safe, efficient and secure supply of natural gas, 24 hours a day, 365 days a year. We own, operate, build and maintain the natural gas network in Ireland and connect all customers to the network.