Gas Networks Ireland Progress Naturally to a new energy future
Gas Networks Ireland launches new advertising campaign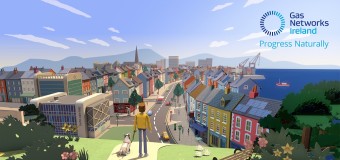 23rd December, 2018:  Gas Networks Ireland has launched a new advertising campaign highlighting the importance of the gas network to Ireland's economy and society and the role that natural gas and renewable gas will play in building a cleaner energy future.  Called Progress Naturally, the campaign has been developed by Gas Networks Ireland in recognition of the need for a major step change to tackle climate change and it highlights the arrival of renewable gas to the grid.  Developed in multiple formats, including a 40 second TV advert, the campaign launches on December 26th, and in phase 1 of rollout, it will run on national TV ¹, Video on Demand, press, outdoor and digital.  This will be followed by sector-specific targeted campaigns during 2019.
Created by design agency Rothco, Progress Naturally has been created using the medium of papercraft, a technique where intricate models are made from paper and brought to life through animation, to create striking visuals.  Campaign development at Gas Networks Ireland has been led by Marketing Strategist Jennifer Cashman, who says: "Ireland's energy system is changing.  We are facing greater challenges than ever before. We have used this advert to discuss those challenges and the role that natural gas and renewable gas will play in meeting our shared economic and environmental goals."
Gas Networks Ireland has built its brand as the owner and operator of the natural gas network in Ireland. Through award-winning PR and advertising campaigns it as also rooted its brand as the guardian of a safe and secure national gas network. In looking to the future, Gas Networks Ireland has in place a strategic plan to achieve 20% renewable gas on the gas network by 2030.  Progress Naturally reflects the ambitious strategic approach to ensure a clean energy future.
Commenting on the campaign, Ian O'Flynn, Head of Commercial for Gas Networks Ireland, says: "Ireland is at a pivotal point in terms of the progress of our energy system, our society and our economy.  Natural gas is playing a key role in decarbonising our energy system. There are 700,000 natural gas users around Ireland.   Looking forward, this campaign raises the profile of natural gas and the role it plays in the future of Ireland.  At Gas Networks Ireland, we are relentless in our quest to find smarter, cleaner, more versatile energy solutions to keep pushing the country forward. Alongside this goal is the need to bring the public, and our stakeholders, with us on the journey to a clean energy future."
ENDS
Issued by Murray on behalf of Gas Networks Ireland. (see note on Ervia below)
Notes:
¹ RTE, TG4, Virgin and Sky and also on the all the main players (video on demand); RTE Player, 3 Player, Sky Go, Virgin media.
For further details, please contact:
Mary O'Mahony, PR Manager, Gas Networks Ireland                
T: 0214534545 / (086) 834 2277
E: Mary.OMahony@gasnetworks.ie
Joe Heron, Account Director, Murray
T: 087 690 9735
E: jheron@murraygroup.ie
Jackie Phelan, Murray                                          
T:  01 4980324
E: jphelan@murraygroup.ie
About Gas Networks Ireland:
Gas Networks Ireland is the business division of Ervia that owns, builds and maintains the natural gas network in Ireland and connects all customers to the gas network. Gas Networks Ireland operates one of the most modern and safe gas networks in the world and ensures that almost 700,000 homes and businesses receive a safe, efficient and secure supply of natural gas, 24 hours a day, 365 days a year.
About Ervia:
Ervia is the commercial semi-state multi-utility company responsible for the delivery of Ireland's national gas and water infrastructure and services.  Through its regulated business, Gas Networks Ireland, Ervia builds and operates one of the most modern and safe gas networks in the world. Ervia is also responsible for the operation and maintenance of Ireland's water and wastewater assets through its other regulated business Irish Water. The company also provides dark fibre broadband infrastructure through its business Aurora Telecom.