Gas Networks Ireland brings energy sustainability to the table at Restaurants Association expo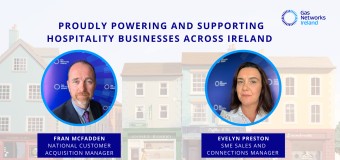 Sustainable and affordable cooking and heating solutions was a hot topic at the Restaurants Association of Ireland's inaugural Hospitality & Tourism Expo last week as one of the hardest hit industries seeks to recover post-pandemic.
Gas Networks Ireland National Acquisitions Manager, Fran McFadden, spoke to 3,000 plus restaurant, hotel, café and pub owners around the country about the role natural gas can play in supporting their businesses to reset, recover and "put their best green foot forward".
"An affordable, sustainable and secure energy supply is more important now than ever as the country begins to reopen. Natural gas is unmatched in terms of reliability, flexibility and high heat performance. Gas, natural today and renewable tomorrow, is the best alternative for the environment and the economy," Mr McFadden said. 
"On average 15% of a hotel's energy use comes from its kitchen. Installing sub meters to monitor consumption in the energy hungry areas of hotels such as kitchens and laundries, can help to make substantial savings. Monitoring energy consumption can result in energy savings of up to 20% for businesses in the hospitality sector."
In the past 15 months, 33% of businesses connecting to the gas network came from the hospitality industry, which is up from 25% pre-Covid. With almost 5,000 customers in the hospitality sector already connected to the gas network, gas is critical to the sector's recovery. 
Gas Networks Ireland's SME Sales and Connections Manager, Evelyn Preston, said:
"This is a testament to the resilience the hospitality sector has shown during the pandemic, and how businesses have adapted how they operate - from outdoor dining to takeaway and cook-at-home options.
"We are still seeing a strong trend to connect to the gas network, as it is the fuel of choice for professional cooking because it provides immediately responsive heat, even heat distribution, less heat is wasted, it's an affordable fuel choice and of course it is unaffected by power cuts." 
Gas Networks Ireland is working to transform this vital energy network to provide sustainable cooking and heating options for the country. Natural gas already emits 40% less carbon than coal and 22% less than oil, but even greater emissions savings can be realised with renewable gases such as biomethane and hydrogen. 
 Gas Networks Ireland is facilitating fully sustainable circular economies, by turning food and agricultural waste into biomethane which, was first introduced onto Ireland's gas network in 2019 and began powering Irish businesses in 2020. Biomethane is structurally identical to natural gas and can be used in exactly the same way through the existing infrastructure, technology and appliances. 
"This means that as the volume of renewable gas on the network increases, businesses connected to the national gas network will increasingly reduce their carbon footprint without the need to invest or change anything on their end," Ms Preston said.