Cork's Engineers and Scientists of the future take part in online STEM Education Programme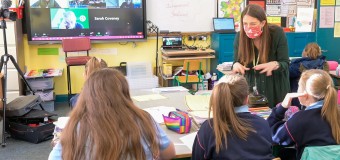 Twenty-four sixth class pupils from Scoil Aiséirí Chríost, Farranree in Cork were excited to be the first in the country to be introduced to science through practical and engaging lessons as part of Gas Networks Ireland and Junior Achievement Ireland's (JAI) new online format of the 'Energize' programme.
Given the current Covid-19 related restrictions, JAI, which are marking 10 years in partnership with Gas Networks Ireland, is now running its successful Science, Technology, Engineering and Mathematics (STEM) education programme, Energize, online for the first time.
Comprising five modules spanning the fundamentals of science, the programme highlights the value of STEM to young people in their everyday lives in a fun and interactive way, promoting a positive attitude to science.  The inaugural online lesson was timed to coincide with Science Week.
Mrs Teresa O'Sullivan, Principal of Scoil Aiséirí Chríost, said:
"The pupils were delighted with the launch class last week; their feedback was very positive. We are delighted to be participating in this very worthwhile project as it's such a great opportunity for our pupils. Particularly as bringing science to life in a fun and interactive way is a wonderful introduction to STEM subjects and is essential for children to help develop their curiosity and wonder about how the world works."
Since 2018, over 8,600 sixth class students across Ireland have participated in 'Energize', which is traditionally delivered in classrooms by volunteers from member organisations such as Gas Networks Ireland.
Ms Tara O'Sullivan, sixth class teacher at Scoil Aiséirí Chríost said:
"The Energize programme really supports the curriculum and makes science enjoyable and interesting for my class. Having engineers from Gas Networks Ireland and Ervia deliver the programme has certainly promoted a positive attitude and helped inspire my pupils who I hope are engineers and scientists of the future."
Gas Networks Ireland's partnership with JAI supports numerous STEM education initiatives for students across the country.
Over the past 10 years, 350 Gas Networks Ireland staff have volunteered to facilitate and deliver Junior Achievement programmes to over 25,000 senior cycle primary students nationwide. These initiatives include 'Energize', 'Our Universe' and 'Science Forward' which are all designed to cultivate an interest in STEM and encourage pupils to study STEM subjects in second and third level education.
Helen Raftery, CEO of Junior Achievement Ireland (JAI) said:
"It is critical that industry and education come together to excite young people about studying science. It is through the support of partners like Gas Networks Ireland that we are able to connect our students with business volunteers, who in turn share their insights and expertise.  By linking the classroom and the 'real-world', we can enhance their learning experience. We look forward to continuing our incredible partnership with Gas Networks Ireland to ensure even more students enjoy the opportunity to learn about STEM in the coming years."
In addition, more than 8,000 students have received a wide range of other JAI programmes  delivered by Gas Networks Ireland employees who volunteered to help young people to fully understand the important role that education will play in shaping their futures, and equipped them with the skills, knowledge and confidence they need to succeed in the changing world of work.
Taking part in the online launch of Energize, were Gas Networks Ireland employees, Sarah Coveney, and Christina van der Kamp, as well as Ervia's Catherine Sheridan, who said:
"As an engineer working to decarbonise Ireland's energy system, I see first-hand the abundance of opportunities for enquiring minds. I am delighted to be part of the Energize programme, supporting Junior Achievement Ireland and introducing children to a world of science and opportunity."
Working with schools and business partners, Junior Achievement programmes promote work readiness, financial literacy, entrepreneurship and the value of studying STEM. If you would like to register your interest in having Energize delivered in your school, please contact Junior Achievement Ireland at info@jai.ie.