Gas Networks Ireland helps St Munchin's Community Centre to cater for demand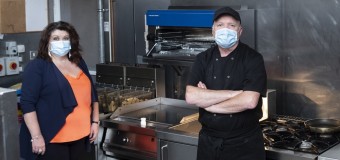 The important role St Munchin's Community Enterprise Centre in Kileely plays in the local Limerick community has never been more evident than during this recent Covid-19 pandemic.
Since the pandemic began the centre has seen a huge increase in demand for its Meals on Wheels service, producing more than 550 dinners each day.
Linda Ledger, CEO of St Munchin's Community and Enterprise Centre said the secret is providing more than just a meal when people need it most.
"It's more than just a warm meal we deliver to people's doors, it's a smile, a friendly face and a chat, which has been more important than ever during times of isolation caused the pandemic," Ms Ledger said. 
Such has been the demand, that the gas boiler and cookers needed to be upgraded to meet the growing number of meals required.
When Gas Networks Ireland learned of the need, the network operator made a financial contribution towards the necessary upgrades as part of its Corporate Social Responsibility programme. 
"We are very grateful to Gas Networks Ireland for their donation. This support means that our kitchen is excellently equipped, and our chefs can cook double the amount of meals at the same high standard," Ms Ledger said.
Gas Networks Ireland supported 33 community initiatives across Ireland in 2020 and was recognised for its efforts during the pandemic when the utility won the Outstanding Community Support Award at the 2021 CCA Excellence Awards. 
Evelyn Preston, SME Sales and New Connections Manager at Gas Network's Ireland, said the national network operator was pleased to support the local Limerick community in this way.
"Building strong relationships in the communities where we are based, operate and conduct our business is very important to us," Ms Preston said. 
"St Munchin's is a true centre for the community in every sense of the word and we are delighted to play a part in helping Linda and her team to cater for the needs of their community."