Terence MacSwiney College launch Gas Networks Ireland Cork/Belfast Leadership Programme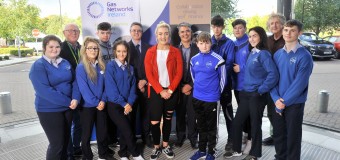 Gas Networks Ireland Launches Co-operation Ireland Partnership
On Tuesday, 2nd October, Gas Networks Ireland launched the 2018 Co-operation Ireland Cork/Belfast Leadership Programme in the Gas Networks Ireland headquarters in Cork, as part of its three-year partnership with Co-operation Ireland, with participants from Terence MacSwiney College, Knocknaheeny and Irish boxer Christina Desmond. Co-operation Ireland is the only cross border project of its kind.
Since its establishment in 1979, Co-operation Ireland has worked with local youth organisations and the Cork Sports Partnership to facilitate leadership programmes for Cork youths. The programme is designed to encourage participants, all aged between 15 and 16, to actively engage in their communities, developing their confidence and providing them with the tools to become positive role models in their community. Participants are recruited by their teachers and leaders in their local youth groups.
As part of the leadership project, all participants carry out a social action project to tackle a problem they identify in their community. In the first year of the project, Knocknaheeney participants from Terence MacSwiney College identified that there was a problem with bullying in their school and community, and conducted surveys with their classmates and teachers to assess the severity of the problem. As a solution, the participants developed an awareness campaign highlighting the effects and impacts of bullying, and encouraging their community to talk about the issue openly.
Ian O'Flynn, Head of Commercial, Gas Networks Ireland, comments: "Gas Networks Ireland is delighted to host the 2018 launch of the Cork/Belfast Leadership Programme in the Gas Networks Ireland headquarters here in Cork. The programme provides a platform for local communities in Cork and Belfast to develop the leaders of the future. Partnership with local communities is a focal point at the core of Gas Networks Ireland's Corporate Responsibility Strategy. We are now in our fifth year of working with Co-operation Ireland and are delighted to support a project that develops positive relations among Irish young people and communities on a cross-community and cross-border basis."
The leadership programme is run, under the same terms, in Belfast and the programme brings the groups, from both sides of the border, together so they can learn about each other's traditions and cultural backgrounds, helping to build a society which is based on tolerance and acceptance of cultural differences.
For further information, please contact:
Murray
Aimee Beale
086 151 4024
abeale@murrayconsultants.ie
Gas Networks Ireland
Mary O'Mahony, PR Manager
021 4534545 / 086 834 2277
mary.omahony@gasnetworks.ie