Gas Networks Ireland supports 'Trees of Ireland'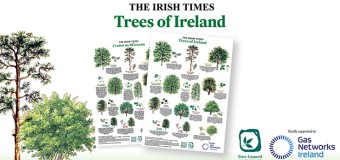 Available in today's Irish Times, the double-sided poster is delivered in both English and Irish and contains information on trees commonly found in Ireland including Ash, Scots Pine, Sessile Oak, Horse Chestnut, Silver Birch, Wych Elm, Alder, Wild Cherry, Yew, Rowan, Holly and Hazel. 
Speaking on the importance of supporting biodiversity, Gas Networks Ireland's Environmental Analyst Maeve O'Reilly said:
"Biodiversity is a key part of our sustainability strategy. Ireland's forests and woodlands are an important habitat for many native species of flora and fauna, providing food and shelter for countless creatures.
"Trees also absorb huge amounts of carbon dioxide, help reduce flooding and are known to be good for our wellbeing. It is vital that we protect our tree species and helping Irish Times readers to identify and learn about trees is a great way to raise awareness of biodiversity, particularly as Ireland now has just 11% woodland coverage – which is one of the lowest in Europe where the average is 35%." 
In the world's largest survey, the United Nations (UN) Development Programme's "Peoples' Climate Vote" published earlier this year, restoring and protecting forests was identified as one of the most popular actions to tackle the climate crisis in a poll covering 50 countries.
As guardians of Ireland's gas infrastructure, Gas Network Ireland aims to deliver its services in a sustainable manner that contributes to the protection of the environment while supporting the social and economic development of the communities it operates in, as well as the wider economy. 
In March, Gas Networks Ireland launched its partnership with the
Laois Barn Owl Project
to help broaden awareness of Barn Owls, increase their conservation and grow their population locally. The national network operator is funding 20 outdoor Barn Owl nesting boxes made from a material intended to last for 20 years in an outdoor environment.