Works with Clean Ireland Recycling underway with CNG re-fuelling station
As an alternative transport fuel, CNG will allow businesses to reduce transport costs and emissions.
Issued: September 22nd, 2016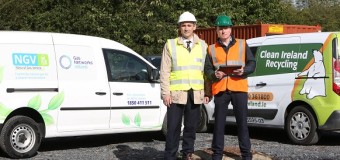 Gas Networks Ireland has begun work on a major network of Compressed Natural Gas (CNG) filling stations. This week sees construction work begin on a fast-fill CNG re-fuelling station at the Clean Ireland Recycling premises at Smithstown Industrial Estate, Shannon, Co. Clare. With a build completed within twelve weeks, the Shannon site will be the first of three to be developed by the network operator in 2016 and is part of the company business strategy to further develop a market for natural gas as a transport fuel. Gas Networks Ireland has conducted research into the development of a network of 70 filling stations by 2020.
A proven technology, CNG is natural gas which has been compressed to fit into a vehicle's tank and is particularly suitable for use in commercial vehicles including trucks, buses and vans. As an alternative to diesel or petrol as a fuel for transport, it provides the greatest benefits for operators/owners of the vehicles through the reduction of harmful emissions¹ and the generation of considerable fuel cost savings of up to 35%.
"We are delighted to begin work on building a new low-carbon transport energy network for Ireland. This project with Clean Ireland Recycling in Shannon is the first step in a project which will deliver lower emissions, cheaper fuel, lower fuel imports and ultimately, greater choice for Ireland's motorists and fleet operators. We are delighted to work with Clean Ireland Recycling, a progressive business, who will be benefitting from reduced costs and an improved environmental performance."   "CNG, and in the longer term biomethane, will play a major role in making transport in Ireland cleaner. Gas Networks Ireland are determined to play our role in facilitating the development of this new, cleaner transport network."
"CNG is an alternative fuel to diesel power that we plan to use in our waste collection vehicles. As well as being a far more environmentally-friendly fuel, with 22% less CO2 emissions and 99% less particulate matter, there is also a significant noise reduction over diesel when the engine is running. This has obvious benefits for waste collection, and is hugely significant for our business. While far from new, this technology is widely used on the continent for waste collection vehicles and bus fleets. It is a very positive step for Clean Ireland Recycling as we plan to reduce our dependence on diesel fuel and lower both ours and our customers' carbon footprints. There are also fuel saving benefits for us as natural gas is cheaper than diesel and is produced from our domestic shores, Kinsale and now, Corrib."
Worldwide there are 19 million natural gas vehicles (NGVs) in operation, and of these, 1.9 million are in Europe. Gas Networks Ireland is currently seeking sites and potential partners for the roll out of this new network. For more details contact 1800 411 511 or email cng@gasnetworks.ie
For further details:
Murray
Joe Heron 01 4980315
Aimee Beale 01 4980330
Gas Networks Ireland
Mary O'Mahony, PR Manager, 021 453 4545 / (086) 834 2277