Young people from Finglas participate in cross-border project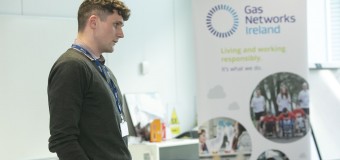 Yesterday, Co-operation Ireland launched its Dublin/Belfast Youth Leadership Programme in Gas Networks Ireland's premises in Finglas, the programme's main sponsor.
13 young people from the Finglas Youth Resource Centre working with a similar cross community group from Belfast will take part in a youth leadership programme focusing on sports leadership and social action.  Now in its third year, previous projects have included promoting positive mental health among young people and addressing the negative perceptions of their communities.
Participants, aged between 14 and 17, will meet and work with peers from different backgrounds, locally and cross-border, to develop positive relationships and deepen their respect and understanding for cultural diversity. With links between youth groups in the Republic of Ireland and Northern Ireland. The cross-border partnership involves reciprocal exchanges, with the young people visiting each other's communities, learning from and about each other, with the opportunity to share learning in relation to their leadership courses.
Speaking at the launch event, Anne Anderson Porter, Director of Operations for Co-operation Ireland said, "Over the years we have seen the positive impact participating in this programme has made. We are very grateful to Gas Networks Ireland for their continued support of our programme. Along with funding support, Gas Networks Ireland's employees also get involved in the project teams and act as mentors. It was great to hear Meath Senior Footballer and Gas Networks Ireland engineer, Adam Flanagan, speak at the launch today helping to inspire the young people taking part."
Ian O'Flynn, Head of Commercial and Corporate, Gas Networks Ireland, added: "A key pillar of our substantiality commitment, as guardians of Ireland's natural gas infrastructure, is to support the social development of the communities in which we operate. We are delighted to support Co-Operation Ireland for the past three years in Dublin and to be involved in a project that develops positive relations among Irish young people and communities on a cross-community and cross-border basis."
Gas Networks Ireland recently published its first sustainability report. "Sustainability in Action" highlights Gas Networks Ireland's progress in implementing the principles of the United Nations' Sustainable Development Goals across the business.
"Sustainability in Action" has three pillars of sustainability – Environmental impact, Social impact and Economic impact.
The full report, "Sustainability in Action", can be found at: https://www.gasnetworks.ie/corporate/company/our-commitment/sustainability-report/