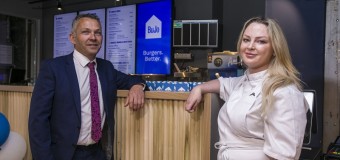 BuJo continues to lead the way in hospitality sector sustainability as they switch from chargrilling their grass-fed beef burgers over natural gas to renewable gas for the next 12 months.
Chef-led by Culinary Director Gráinne O'Keefe, BuJo has outlets in Sandymount and Terenure and is the first Irish restaurant to cook its meals using renewable gas supplied through the national gas network.
The renewable gas, known as biomethane, is a carbon neutral gas being produced from farm and food waste by Green Generation in Nurney, Co. Kildare, and injected into the national gas network via a dedicated renewable gas entry point in Cush, Co. Kildare.
"From the outset, we have endeavoured to make BuJo as sustainable as possible and I am really excited that we're now using gas from renewable sources that has been produced here in Ireland," Ms O'Keefe said.
"The flame is at the very heart of BuJo as our burgers are chargrilled over fire, so we feel very privileged to be the first that can now say that those flames are powered by renewable gas.
"Switching to biomethane means an even further reduction in our carbon footprint, which is great news for BuJo, for our guests, for our team and most importantly, for the environment."
Gas Networks Ireland first introduced domestically produced biomethane into Ireland's gas network in small volumes in 2019, via the country's first renewable gas injection point in Cush and the company is currently preparing to build a second injection facility in Mitchelstown, Co Cork.
BuJo co-founder Michael Sheary said the switch to renewable gas could not have been easier.
"The whole process has been very straightforward, and we didn't need to change our grills or appliances to be instantly more sustainable," Mr Sheary said.
Sustainability has been central to the development of BuJo and the company is committed to high levels of community stewardship across its entire operation.
BuJo sources its bespoke blend of grass-fed beef and free-range chicken from Bord Bia 'Quality Assured' & 'Origin Green' certified Irish family farms and all of its packaging is compostable.
It is the only burger focussed restaurant in Ireland and the UK to achieve a 3-Star rating from the Sustainable Restaurant Association.
BuJo has won several sustainability awards since its inception in 2017 including the Food Made Good 'Reduce, Reuse, Recycle' award presented to Ms O'Keefe by Raymond Blanc in London.
BuJo was previously a recipient of the Pakman 'Food Waste Management' award for creating a sustainable menu that eliminates unnecessary packaging waste, introducing 100% compostable packaging, and for its exceptional recycling of 95% of food waste to energy.
"We are incredibly proud to have achieved the highest rating possible from the Sustainable Restaurant Association as it underpins how we operate right across the business from sourcing the very best of premium Irish produce, community initiatives and environmental best practice," Ms O'Keefe said.
"BuJo's fine-dining, food-first, approach to the humble burger includes going to great lengths to continually ensure that we are as sustainable as possible."
As well as helping to decarbonise agriculture, biomethane can reduce emissions in heating, cooking, manufacturing, transport and electricity generation.
It will play a major role in Ireland and the EU's commitment to becoming an energy-efficient, low carbon economy, with the European Commission identifying Ireland as having the highest potential per capita to produce biomethane.
Ireland's 2021 Climate Action Plan had an initial target of 1.6TWh/yr of biomethane on the national gas network by 2030 and outlines the Government's intent to explore opportunities to increase production and further reduce emissions in the agri-food sector.
More recently, the Government in its Budget 2023 publication 'The Use of Carbon Tax Funds 2023' outlined its decision on Sectoral Emissions Ceilings; increasing the ambition for domestic biomethane production of up to 5.7 TWh, which equates to approximately 10% of gas supply.
A domestic biomethane industry will also provide significant opportunities for local communities from the sale of biomethane, feedstock used to produce the renewable gas, and a bio-fertiliser digestate that is a by-product of the process.
Gas Networks Ireland's Large Industrial and Commercial Sales Manager, Sean Crowley, said there has been significant growth in demand from businesses looking to source sustainable and indigenous fuel alternatives.
"We are very excited to be able to transport biomethane to BuJo through our gas network," Mr Crowley, said.
"Cleaner carbon neutral renewable gas will help Ireland reduce its reliance on imported fossil fuels and help to decarbonise Irish homes, businesses, transport and supply chains.
"Using biomethane requires minimal investment in new infrastructure, as it can be transported through the existing gas network, which is one of the safest and most modern gas networks in Europe.
"By gradually replacing natural gas with renewable and carbon neutral gases such as biomethane and hydrogen, businesses like Bujo can be powered by increasingly cleaner energy."
Bujo will receive a formal certification from Gas Networks Ireland to show that the gas it is using is renewable.  
Gas Networks Ireland is the body responsible for both supervision and issuing guarantees of origin for current and new renewable gases under new EU regulations.
Each certificate represents Gas Networks Ireland's guarantee that the equivalent amount of renewable gas has been injected into the gas network.
By providing an objective means of tracking the commercial transactions of renewable gas through the supply chain, Ireland's Renewable Gas Registry will help establish trust in the market and confidence in the renewable gas sector, supporting the expansion of production, providing certainty for customers and providing an incentive for gas producers to inject renewable gas into the network.
"The expansion of clean renewable gas will help Ireland reduce its reliance on imported fossil fuels," Mr Crowley said.
"Bujo is leading in terms of sustainability and we are proud and delighted to be part of their journey".
For more information about the benefits of biomethane or to enquire about becoming a customer or producer, visit www.gasnetworks.ie/biomethane.