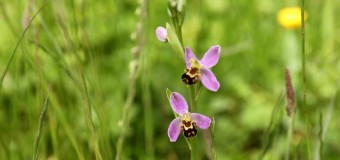 Our sustainability strategy
Gas Networks Ireland are ever mindful of our sustainability responsibilities and aim to contribute to the protection of the environment while supporting the social and economic development of the communities we operate in. We are proud of the fact that we are one of only 41 companies in Ireland to hold the Business Working Responsibly (BWR) mark and are committed to ensuring that sustainability is at the forefront of everything we do and help Ireland to reduce its carbon emissions.
As a leading utility company, sustainability is defined by our role in delivering an affordable and clean energy future for the people of Ireland through the decarbonisation of our network and the reduction of emissions across all sectors of Irish society. During 2022 we continued to embed sustainability across our business. Our sustainability strategy has three pillars, Environment, Social and Governance, and is aligned with the United Nations' Sustainable Development Goals. While we endeavour to support all 17 UN SDGs, we focus primarily on the six goals which align most closely with our strategic framework. We are committed to ensuring that sustainability is at the core of our business decisions and business strategy.
In 2022, we commenced the process to refine our sustainability strategy to ensure we are continuing to focus our attention in the right areas. As part of the process, we carried out a materiality assessment with our employees and external stakeholders.
2022 sustainability achievements
Awards

Won the 'Public Sector' category at the 2022 Health & Safety Excellence Awards for our public safety campaigns

1 — 17

CDP

We took part in the Carbon Disclosure Project (CDP) for the third time, maintaining our B rating

2 — 17

Awards

Won 2022 Green Public Sector Organisation of the Year

3 — 17

Community

Supported 59 community projects and provided over €205,000 in financial support to local communities

4 — 17

Leave No Trace

Continued the 'Hot Spot' programme with Leave no Trace Ireland at Turvey Nature Reserve and Rogerstown Estuary, Co. Dublin

5 — 17

Awards

Won the Gas Safety Award at the Institute of Gas Engineers and Managers (IGEM) Gas Industry Awards for our carbon monoxide safety campaign

6 — 17

Biodiversity

Developed our biodiversity strategy and Biodiversity Action Plan to support the National Biodiversity Action Plan

7 — 17

Awards

Winner of Best ESG Campaign or Case Study to Improve Education or Access to Education. Shortlisted for Sustainability Report of the Year at the ESG Awards

8 — 17

Hydrogen

Delivered our Hydrogen Technical and Safety Feasibility Report to the Department of the Environment, Climate and Communications

9 — 17

Sustainability

Published our fourth annual sustainability report highlighting progress in implementing the principles of the UN Sustainable Goals

10 — 17

Sustainability

Presented our Sustainability Strategy at the All-Ireland Sustainability Summit

11 — 17

Reduce your use

Delivered a Reduce Your Use campaign in our offices in collaboration with SEAI and OPW

12 — 17

Biodiversity

Developed Landscaping for Biodiversity guidelines to enhance biodiversity at Gas Networks Ireland sites

13 — 17

Trees

Successfully obtained our first afforestation licence enabling the planting of more than 15,000 native Irish tree species

14 — 17

Energy

Achieved a 52% improvement in energy intensity for our offices and fleet, from our energy efficiency baseline

15 — 17

Biomethane

We transported 41 GWh of biomethane in 2022

16 — 17

Lost time

Our reportable Lost Time Incident Frequency Rate was 0.23 (the number of lost time injuries occurring per 100k hours worked)

17 — 17
Our customers
New connections
A total of 420 small-to-medium enterprises, 33 large industrial customers, over 2,300 homes and 13 apartment blocks contracted to be connected to the gas network in 2022. A total of over 6,200 new connections were completed in 2022.
2,851 GWh - 33 large industrial users
51 GWh - 420 commercial businesses
23 GWh – 1,935 mature homes
3 GWh – 364 new homes
12 GWh – 13 new apartment blocks.
Customer care
We continued to deliver an excellent experience on our customer journeys which saw our Net Promoter Score (a measure of how likely the customer is to recommend us to their friends/ family) increase one point to +71 in 2022 and our Net Easy Score (a rating of how easy it was to interact with us) remain steady at 83 points.
Aurora Telecom
Aurora Telecom, our division which specialises in dark fibre and colocation services is now the carrier-neutral provider of choice to top global content and application providers. In 2022, we extended our national backhaul fibre network by over 10% and strengthened Ireland's international and digital footprint by continuing our significant capital expenditure to provide secure, resilient, dual-feed connectivity to both terrestrial and subsea cable networks that span to mainland Europe, as well as transatlantic to the United States.
Sustainability Report 2022
Our fifth Sustainability Report outlines our progress in implementing the principles of sustainable development across all aspects of our operations.