Can Energy System Integration Accelerate Ireland to Net-Zero Carbon Emissions?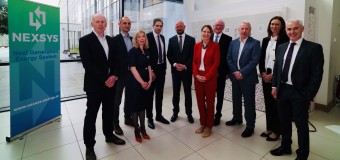 Whether energy system integration can help Ireland achieve its climate action targets and how energy systems should evolve are questions that the NexSys research programme is hoping to answer.
Led by the University College Dublin Energy Institute (UCDEI), NexSys (Next Generation Energy System) is a new €16 million strategic partnership which will examine how to holistically decarbonise the Irish energy sector.   
Gas Networks Ireland, operator of Ireland's national gas network, is one of nine industry co-funding partners1, who together with nine academic institutes2 are as part of NexSys, working to deliver a more cost-effective energy system on Ireland's net zero transition.
Commenting about the significance of the NexSys programme, Gas Networks Ireland's CEO, Cathal Marley said;
"Climate change is an urgent global challenge, and we are committed to playing a central role in Ireland's low carbon transition by decarbonising the gas network in line with Irish and EU environmental policy."
"The country needs a 'whole of energy' approach to the future. We need to stop seeing gas and electricity as separate and look at how to decarbonise the end-to-end energy system, not just individual fuels. As Ireland's gas network is one of the most modern in the world, there's a ready-made solution right under our feet. The gas network can be repurposed to carry decarbonised gases, such as biomethane and hydrogen, at minimal cost and disruption, and in turn play a critical role in an integrated gas and electricity system to decarbonise the country's energy needs."
This is not the first time that Gas Networks Ireland has worked with UCDEI, having been one of the industry partners on the Energy Systems Integration Partnership Programme (ESIPP) which ran from 2014 to 2020.
Additionally, the gas utility is also currently working with a research team from UCDEI to test the operation and performance of household appliances with varying levels of hydrogen and natural gas blends to see if Ireland can warm homes and cook dinners with hydrogen.
"Transitioning to a clean energy economy by 2050 requires a balance between sustainability, security and affordability. Leveraging existing energy assets and capabilities will enable Ireland to reach its targets more effectively."
1 The nine co-funding partners industry are EirGrid, ESB, Gas Networks Ireland, CIE, RWE, SSE, Electric Power Research Institute (EPRI), Atlantic Hub and Davy.
2 NexSys brings together nine academic institutions across the island of Ireland – University College Dublin (UCD), Trinity College Dublin (TCD), Dublin City University (DCU), Economic Social Research Institute (ESRI), Maynooth University, University College Cork (UCC), NUI Galway, Ulster University and Queen's University Belfast.