Gas Networks Ireland wins International ESG Award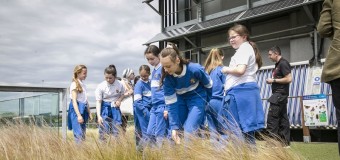 Continuing to deliver on its award-winning sustainability programme, Gas Networks Ireland was named as the winner of the 'Best ESG Campaign or Case Study to Improve Education or Access to Education' at the ESG awards on Wednesday.
The national utility won this award in recognition of the success of its STEM (Science, Technology, Engineering and Maths) educational programmes.
These programmes include Energize - a programme Gas Networks Ireland delivers with Junior Achievement Ireland (JAI) to encourage sixth class pupils to keep on science subjects in second level education.
Together with Business in the Community Ireland, Gas Networks Ireland also delivers the 'Time to Count' numeracy support primary school programme and the 'World of Work' education and career support secondary school programme.
Additionally, in advance of next week's 'Science Week' Gas Networks Ireland has joined forces with European Space Agency champion, Dr Niamh Shaw to bring her science-based workshop to schools in Cork and Dublin.
On announcing Gas Networks Ireland as the award winner of the best ESG campaign in education, the judges said:
"The combination of STEM content with the creativity of arts made science more accessible and engaging, which is ultimately the end goal, making this campaign award winning."
Over the past 10 years, more than 350 Gas Networks Ireland employees have volunteered to facilitate and deliver JAI programmes to over 25,000 senior cycle primary students nationwide.
Commenting on winning the award for its schools' engagement initiatives, Gas Networks Ireland's Sustainability Manager, Anne Moore said;
"We are delighted to win this award as the operator of Ireland's 14,664km national gas network, which is considered one of the safest and most modern renewables-ready gas networks in the world. Science, technology, engineering and maths expertise is at the centre of our business, so we are big supporters of STEM education."
The ESG Awards showcase the best ESG (Environmental, Social and Governance) performance from across the globe in line with the UN's 17 Sustainable Development Goals.
Gas Networks Ireland was also shortlisted in the highly competitive category of 'Sustainability Report of the Year' award, which was ultimately won by Kingfisher plc - a British multinational retailing company with brands including B&Q and Screwfix.
"Being the only Irish organisation to win an ESG award demonstrates how Gas Networks Ireland is a leader in sustainability. Ms Moore added.  
"There is heightened awareness coming out of COP27 this week for organisations to improve transparency and increase their level of carbon emissions disclosure. This is something that we in Gas Networks Ireland are already doing.
"In 2021 we participated in the Carbon Disclosure Platform (CDP) for the second time and improved our rating from a B- to a B which demonstrates our commitment to improving our carbon management performance year on year. We also exceeded the global, European and sector averages to finish in the top quartile of all businesses assessed globally.
The national utility also recently published its fourth annual sustainability report: www.gassustainability.ie