Gas Networks Ireland makes second donation of hardware supplies to Ukraine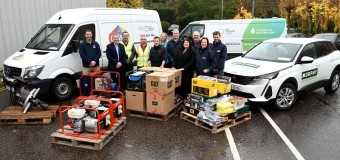 Gas Networks Ireland, together with its main contractors GMC Utilities Group and Murphy International, has donated almost €100,000 worth of equipment, hardware, fittings and materials to Ukraine's gas grid operator, Gas Distribution System Operator Ukraine (GDSOU).
Answering GDSOU's call for support, Gas Networks Ireland worked with the Ukrainian authorities and the European Commission to establish the organisation's specific needs. Eighteen pallets of essential supplies, welding equipment, tools and generators are currently enroute to the Ukrainian city of Kharkiv.  
Speaking about the project, which took several months to coordinate, Gas Networks Ireland Logistics Manager, Ken McCarthy, said
"As a business, it is important for Gas Networks Ireland to support our Ukrainian counterpart through this challenging time and we will continue to work closely with the them to ensure we do our best to support the utility.
"We have been deeply saddened by the ongoing conflict in Ukraine and so we are delighted to be able to provide some support in this way," Mr McCarthy added.
This is the second donation of hardware supplies that Gas Networks Ireland has made to its Ukrainian counterparts to help repair and maintain their gas system. In August Ireland's national gas utility donated over €65,000 worth of vital supplies to Gas Transmission System Operator Ukraine, GTSOU.
Thanking Gas Networks Ireland for its support, GTSOU said that the donated supplies helped them to carry out vital maintenance on their pipelines and allow them to focus on transporting gas to the consumers in Ukraine who depend on it for their energy and heating needs.
Along with Gas Networks Ireland, this donation was made possible by GMC Utilities Group, Murphys International and their suppliers; AEF, Anthony Cocoman Haulage, Carey Tools, Groundforce, Hanley Controls, Loxam Rental, McKenna Haulage, Pipelife, Radius System, Sunbelt Rentals, Tricel and Westport Equipment.
"After our initial shipment of vital supplies to GTSOU earlier this year, our main contractors GMC Utilities Group and Murphy International expressed an interest in getting involved. We are very grateful to them and their suppliers for their involvement." Mr Mc Carthy added.