Irish domestic appliances can operate on blends of 20% hydrogen and reduce emissions
Gas Networks Ireland and UCD launch report at first Hydrogen Ireland Conference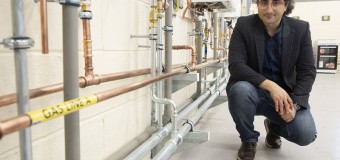 Over the last year, Gas Networks Ireland has been working with University College Dublin's Energy Institute (UCDEI) on a research project to investigate the potential use of hydrogen in Ireland and find out if we can heat homes and cook dinners with this renewable gas. 
Today, delegates at the first Hydrogen Ireland conference being held in Dublin will hear the results of that research in a new report, called "Testing of Blends of Hydrogen and Natural Gas (HyTest)."
Led by Gas Networks Ireland's Head of Technical Development and Technical Training, Liam Nolan, together with Dr Ali Ekhtiari and Dr Eoin Syron from UCDEI; the research team found that householders using natural gas blended with up to 20% of hydrogen will not need to make any change to their existing domestic appliances or notice any difference and even the flame motion and colour is very similar to the flame produced with 100% natural gas.
The report also outlines that significant reductions in emissions can be achieved by blending hydrogen with natural gas; including the following average reductions for domestic gas boilers operating at maximum load conditions – a 12% reduction in carbon dioxide (CO2), a 37% reduction in (carbon monoxide) CO and a 40% reduction in nitrogen oxides (NOx) emissions.
Minister for the Environment, Climate and Communications, Eamon Ryan TD, said:
"Momentum is building behind green hydrogen in Ireland, which is set to play a crucial role in the decarbonisation of Ireland's energy system. We have a target to produce 7 GW of wind energy by 2030, with 2 GW of that specifically earmarked for green hydrogen. But this is just the start. If Ireland can harness the opportunities offered by hydrogen production, we can become an energy exporter and can achieve our goals of a zero carbon and secure energy system."
Gas Networks Ireland's Liam Nolan who is also President of MARCOGAZ, one of Europe's leading gas associations, said:
"Ireland has already transitioned to a cleaner gas once before, from the old town gas, which was a combination of hydrogen, carbon monoxide and methane, to natural gas in the 1980s and we have a head start on this next chapter to transition to new renewable gases such as biomethane and green hydrogen,  thanks to having one of the safest, most modern gas networks in the world."
Gas Networks Ireland has also recently made a submission to the Government's consultation regarding the development of a national hydrogen strategy, where the utility outlines why Ireland's gas network can and should play a central role in Ireland's future clean energy and hydrogen economies.
Gas Networks Ireland's Director of Strategy and Regulation, Edwina Nyhan who will participate in a panel discussion at today's Hydrogen Ireland conference along with representatives from ESB and Siemens Energy, said;
"We are preparing the existing gas network – a €2.7bn national asset – to initially accept hydrogen blended with natural gas through the interconnectors from the UK; and ultimately 100% green hydrogen.
"We also believe that Ireland's gas network will be the lynchpin in Ireland's future hydrogen economy by connecting hydrogen production, storage and end-users within hydrogen clusters as they emerge at port locations and at other sites around the country; and by securing energy system resilience through medium term and long-term inter-seasonal storage as well as giving Ireland the economic advantage of being able to import and export  green hydrogen through the repurposing of one of the interconnectors with the UK.
"Gas Networks Ireland is ready to deliver for Ireland in its necessary energy transition."