Marking 15 years of bringing the world of work to school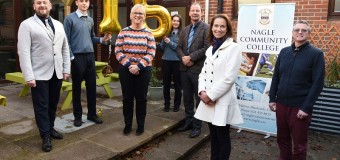 Gas Networks Ireland, the operator of Ireland's gas grid, and Business in the Community Ireland (BITCI), the country's leading organisation in driving the agenda for responsible business, have been helping to bring the world of work to students at Nagle Community College in Cork for 15 years.
One of six BITCI programmes under the Business Action on Education nationwide initiative, the 'World of Work' programme aims to help increase student retention rates by showing students the many career and further education opportunities available to them once they stay in school and attain a Leaving Certificate.
Reflecting on the 15-year partnership with Nagle Community College, Christina van der Kamp, Corporate Social Responsibility Manager at Gas Networks Ireland, said:
"Employee volunteering is a key part of our social engagement strategy.  Since 2007 over 200 of our employees volunteered with around 500 students from Nagle Community College to help them gain insights into working life at Gas Networks Ireland through 'Meet & Greet' and 'Day in the Life' sessions, work experience as well as delivering life and practical skills training.
We are very proud of the positive impact this programme has on students, how it helps to broaden their horizons and help make them more aware of potential career opportunities."
Commenting on the success of the programme, Jim O'Sullivan, Principal at Nagle Community College, said:
"It has been a privilege to have worked with Gas Networks Ireland and BITCI over the last 15 years. Students of Nagle Community College have benefited greatly from work experience opportunities, site visits, workshops, seminars, mentoring and so much more.
I would like to sincerely thank all at Gas Networks Ireland for the sharing of their expertise and resources with us. We can all look forward to many more productive years building even further on the fantastic relationship we have enjoyed with such a progressive company."
Headquartered in Cork, Gas Networks Ireland has been a leading member of BITCI for 18 years and is one of just 40 companies in Ireland to hold the Business Working Responsibly Mark which is audited by the National Standards Authority of Ireland and based on ISO26000. The Mark is the only independently audited standard for Corporate Responsibility and Sustainability practices in Ireland. As holders of the Mark, Gas Networks Ireland is a member of the Leaders Group on Sustainability and co-chair of the Low Carbon Economy Group.
Along with the 'World of Work' programme, Gas Networks Ireland also works with BITCI to deliver its 'Time to Read' literacy and 'Time to Count' numeracy programmes for primary schools across the country, and also provides mentorship on the Management Excellence for Principals and Teachers programme.