Power Generation
Natural gas plays a vital role in the Irish energy system
The gas network generates a large proportion of the electricity we use to run our homes and businesses. It provides flexible energy security when intermittent renewable energy generation is low.
Cleaner compared to other fuels
Natural gas is cleaner compared to other conventional fuel types when generating electricity. In comparison, coal and peat powered generators release heavy levels of greenhouse gas emissions. Natural gas produces 67% less emissions than peat, and 61% less than coal. View how much cleaner gas is on this chart.*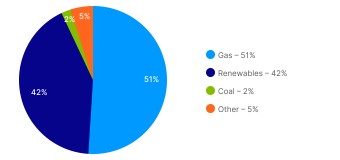 Ideal partner for renewable energy sources
It is vital for Ireland to use renewable sources for power generation. However, intermittent renewable sources, such as wind and solar, can create gaps in energy supply levels. Gas-fired power plants provide the flexible and reliable back up needed to meet electricity demand.
View the pie chart to see the mix of fuels that produced Ireland's electricity in July 2018.**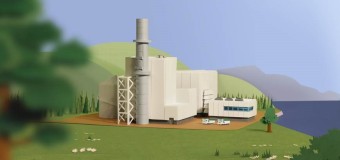 Security of supply
The gas network allows Ireland to generate its own electricity. Indigenous gas is supplied from the Corrib gas field in Co. Mayo, with two subsea interconnectors with the UK providing significant energy security. Indigenously produced renewable gases, such as biomethane and hydrogen will add further diversity and security of supply.
Moving Ireland towards a cleaner energy future
By switching from peat and coal to gas-powered plants, Ireland can realise immediate emissions savings. And, as the volume of renewable gas in the network gradually increases, gas-powered generation will become increasingly more sustainable. This is how we are working to move Ireland towards a cleaner energy future. 
Data Transparency Portal
In May 2018, we launched a new Data Transparency portal. You can view the 'Commercial Exit Point Allocations' graph to see natural gas usage for power generation in Ireland.