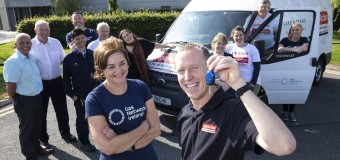 In 2019 we supported Age Action's 'Care and Repair' programme which offers free DIY and household repair services to ensure that older people can remain safe, secure and independent in their own homes for as long as they want. Donations from our customer care survey process came to €15,579 in 2019 which funded 620 hours of direct Care and Repair support for people in Cork and Dublin. This covered the cost of the Care and Repair Service for the full year.
We also donated an upgraded van, complete with Age Action branding, to the Care and Repair team in Cork, as well as servicing Age Action's own fleet of vans. Staff donated clothing to Age Action charity shops and raised €3,180 through fundraising activities on St Patrick's Day, Easter and Christmas. On UN International Day of Older Persons, 40 employees from our Dublin office tidied the gardens of 25 older people in the local community, clocking up over 240 volunteer hours in the process.
Since 2016 we have donated €150,000 worth of carbon monoxide alarms to Age Action's Care and Repair programme. Age Action volunteers install the alarms in the homes of vulnerable older people following full training on carbon monoxide alarm installation and safety.