Combating climate change
Reducing and controlling carbon emissions generated by the network
Carbon Emissions - System Operation & Generation
The operation of the network generates a substantial carbon footprint. The most significant element is the operation of the three compressor stations which are part of the European Emission Trading Scheme (EETS) and their CO2 emissions are reported under stringent conditions and are monitored closely. There are a number of steps being taken to help reduce and control carbon emissions generated by the operation of the network. Investment is taking place in acquiring leading edge, asset management systems and processes, to better manage network asset performance.
Carbon Emissions - Business Operations
Gas Networks Ireland generates a carbon footprint in carrying out its day to day business operations. One of the main contributors, in terms of our daily operations, is energy consumption. Metering and energy efficiency drives are taking place at all office locations, along with the application of new asset management processes and the replacement of inefficient lighting and heating solutions.
Other contributors to our day to day business carbon footprint include the operation of the Gas Networks Ireland vehicle fleet and work-related travel by employees. A number of measures are underway to minimise our footprint in these areas. A new and efficient fleet of vehicles is now in operation replacing older inefficient vehicles and the new fleet is managed with better inspection procedures and awareness of fuel consumption.
Travel Policy
In respect of travel, Gas Networks Ireland oversees the implementation of a very proactive travel policy and related procedure outline. The Policy mandates on rail travel over car travel for inter-office journeys and governs air travel with relevant approval and sign off at executive level. Alternative modes of transport are encouraged always with the aim of having reduced environmental impact.
Furthermore, Gas Networks Ireland has established an active Smarter Travel Programme in partnership with the National Transport Authority. This Programme is managed by representatives within the business from key areas including, HR, Environment, Corporate Responsibility and Facilities and aims to promote, encourage and support more sustainable travel.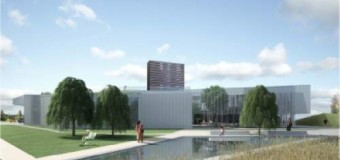 Networks Services Centre
Gas Networks Ireland recently centralised all its operations in Dublin into a new Networks Services Centre in Finglas. The new two storey 5,200 sq.m building is a leading example of sustainable, energy efficient design with a low carbon footprint as well as providing a modern work environment for staff. The Networks Services Centre reflects Gas Networks Ireland' commitment to environmental protection, energy conservation and sustainable development. The design combines microclimate, landscape, water management and use of renewable energy technologies with a compact building featuring a user responsive low energy design, to establish a service facility with a high quality and permeable work environment.
The building will have one of the highest BREEAM (Building Research Establishment Environmental Assessment Method) scores in Ireland. BREEAM is the leading and most widely used environmental assessment method for buildings. It sets the standard for best practice in sustainable design and has become the de facto measure used to describe a building's environmental performance.
The architectural design was chosen following a two stage international architectural competition administered by the RIAI on behalf of Gas Networks Ireland in the summer of 2008. From an initial 56 entries Denis Byrne Architects were selected as the winner and was appointed by Gas Networks Ireland as the Lead Architectural Consultant on the project.
Memorandum of Understanding
In assisting the Department of Environment and the Environmental Protection Agency (EPA) to calculate Ireland's Carbon inventory, Gas Networks Ireland agreed to and honours a Memorandum of Understanding in this capacity. As part of this agreement, Gas Networks Ireland provides data relating to the quality of natural gas transported via our network. Gas Networks Ireland also provides meter calibration certificates to all Industrial and Commercial customers who are party to the EET Scheme.